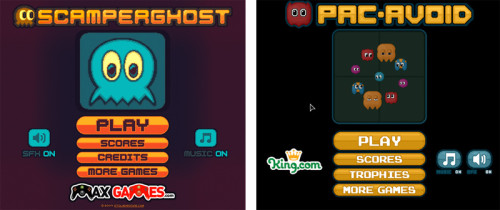 Despite Candy Crush Saga developer King's denials of cloning games and removing the Pac-Avoid game from the internet, it has been branded "deceitful" and "hypocritical" by the third-party developer that made the game.
The London-based developer of the hugely popular Candy Crush smartphone games was accused last week of cloning Scamperghost, a game released by indie game studio Stolen Goose back in 2009.
King's Pac-Avoid was launched in 2009 alongside Scamperghost with both being Flash-based online games. Following the accusations of cloning last week King removed Pac-Avoid from its website over the weekend, but denies any wrongdoing:
"King does not clone other peoples' games. King believes that IP – both our own IP and that of others – is important and should be properly protected. Like any prudent company, we take all appropriate steps to protect our IP in a sensible and fair way. At the same time, we are respectful of the rights and IP of other developers," a spokesperson for King told IBTimes UK.
Taken down
"Before we launch any game, we do a thorough search of other games in the marketplace, as well as a review of trademark filings, to ensure that we are not infringing anyone else's IP. However, for the avoidance of doubt, in this case, this game – which was coded by a third-party developer 5 years ago – has been taken down."
King was originally in talks with developer Stolen Goose about developing its game Scamperghost. Stolen Goose claims it was made a better offer for its game by a rival company and decided to sell the game to Maxgames.com.
King then hired Matt Porter of Epic Shadow, who has now also spoken out about the situation, claiming he was hired to create a game very similar to Scamperghost:
"I initially thought the job was a little immoral, and a bit sketchy, but we had worked with King before, talked regularly, and Lars [Jörnow - King's VP of Mobile Products] made these other developers seem like some really unprofessional jerks," Porter writes on his blog.
"Lars requested that we build the game quickly and explained that it would be optimal if we could beat the original game to market. Between needing the money, and Lars painting the developers of Scamper Ghost as the bad guys, we took the job."
Deceitful and hypocritical
The developer goes on to say that Stolen Goose discovered that Epic Shadow had cloned its game, but following an exchange of emails, decided that Epic Shadow was not to blame as it had been misled by King.
"Based on their response to the recent allegations, I now know that [King] is both deceitful and hypocritical...I've apologised to Matthew Cox and his partner in the past and I do so again now – I'm sorry I took on such an immoral contract job and I've learned from my past, it's a shame King can't fess up and do the same," writes Porter.
The reason Stolen Goose has brought up the cloning issue now is because it fundamentally disagrees with King's recent tactics of trademarking the word "Candy" and "Saga", which is seen by some in the industry as a bullying tactic towards indie game developers.