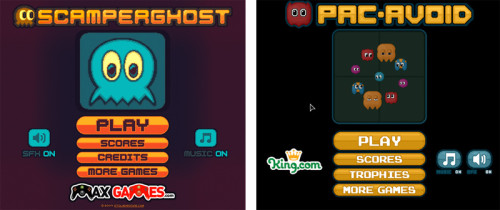 An indie developer has accused King.com, the developer behind the hugely popular Candy Crush Saga smartphone game, of cloning one of its games back in 2009.
Matthew Cox, a UI artist working for indie developer Stolen Goose, has lashed out at the Candy Crush Saga makers on his personal website, accusing King.com of having "double standards" for trademarking the word "candy" and claiming its intellectual property is constantly being infringed.
King.com already holds the European trademark on "candy" and is currently awaiting approval for a similar trademark application made in the US.
"It's ironic that King.com is concerned about intellectual property when they so blatantly copied our game Scamperghost with their game "Pac-Avoid" in late 2009," writes Cox, who is based in Washington.
Proof
Together with multiple screenshots of both games and "proof" in the form of emails allegedly written by King.com's VP for mobile Lars Jörnow and the developer hired to clone the game, Matt Porter of Epic Shadow, Cox explains that Stolen Goose was in talks with the King.com CEO to license Scamperghost in 2009.
However Stolen Goose received a "better offer" from MaxGames.com and sold its game to them instead.
What really ticked the indie developer off was the fact that they discovered that King.com had hired another developer to clone Scamperghost and tried to release its version of the game, Pac-Avoid, before Scamperghost was launched.
Contract
Stolen Goose tracked down the developer that had made Pac-Avoid and was told by Epic Shadow's Matt Porter that they had agreed to make the game as they had been told by King.com's Jörnow that Stolen Goose had signed a contract for the game and backed out at the last minute.
"No 'contract' was ever signed, this was Lars/King justifying their actions to a small indie developer that might otherwise have turned down the request to copy our game. Scamperghost isn't the most original game in the world. It's obviously inspired by Pac-Man but we at least took it in an original direction by making it a mouse avoider with no walls," stressed Cox.
"King.com, however, showed no respect for other people's intellectual property when they made a direct, blatant clone of Scamperghost. Now they've trademarked 'Candy' and are using their massive legal power against other small competing developers. A bit of a double-standard, eh?"
IBTimes UK has contacted King.com for comment and is currently awaiting a response.
King.com is based in London's Tech City, with several other offices around the world. Founded in 2003, the company makes casual and social games for Facebook, iOS and Android devices.
Its Candy Crush Saga game is the number one game on all three platforms and in June 2013, King.com had an average of 92 million daily active users playing its games more than one billion times per day.