Within five minutes' walk down the Croisette at Cannes, I came across a Marilyn Monroe lookalike pouting for pictures, a bare-chested punk on stilts heading up a procession of futuristic nuns, and two red-wigged girls on rollerskates - all of them different promotional stunts. Gone are the innocent days when you could grab headlines just by sticking Brigitte Bardot in a bikini (though stuff Borat into a lime-green mankini and you still can); today's filmmakers have to come up with ever-more inventive ways to get noticed.
You thought the Cannes Film Festival was about showing films? Not really. Cannes is about selling films: it's the largest such market-place in the world. Over the last three days here I spoke to three very different producers about how to drum up publicity.
Lloyd Kaufman, irrepressible founder of Troma Films, has hardly missed a Cannes festival since he first slept on the beach here in 1971. Promoting his latest oeuvre Return to Nuke 'Em High, which premieres on Tuesday (though not, strangely, in Competition), he has declared himself leader of the Occupy Cannes movement, staging a different promotional stunt each day. Since opening night he has sent a streaker down the Croisette, staged a lesbian "marriage" ceremony, and unleashed hordes of zombies through the streets.
"When you don't have money, you just have to find interesting ways to get your message out there," says Kaufman, who also raised £30,000 on the Indiegogo crowdfunding platform to film a documentary at Cannes about the difficulties of independent film-making.
An even lower-budget film-maker is Jonathan King. The disgraced 68-year-old music mogul, who served time for underage sex offences (which he still denies), may seem an unlikely auteur, but he turned to filmmaking as a kind of therapy: Vile Pervert (2008) caricatured the story of his arrest and prosecution, with the famously shy and retiring King playing all 21 characters himself. He's now discovered that his films generate sales of his music, providing a new kind of business model - as long as they are made on the cheap. The Pink Marble Egg, which premieres in Cannes on Tuesday (again, not as part of the official festival), is a feature-length Bond spoof budgeted at just £10,000.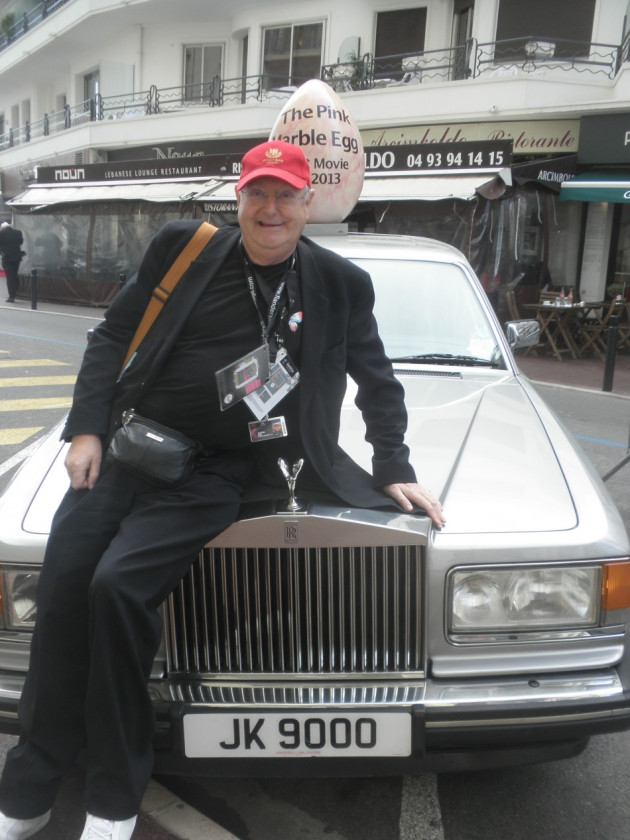 King has been driving down the Croisette with a three-foot-high pink "marble" egg (made of papier mache) fixed to the roof of his Rolls Royce. Its number plate is "JK 9000", and the egg modestly announces "The best movie of 2013". "But this is old-school publicity," King says dismissively. "That's just 10% of the marketing. The future is in social media."
King, apparently, has a network of young, net-savvy friends - "none of them under 18," he adds hastily, "you don't want to put yourself in the firing line" - including 23-year-old Charlie McDonnell, who with over two million subscribers is the UK's most powerful YouTuber.
At the other end of the film industry spectrum is Pippa Cross, a highly respected UK producer with 35 titles to her credit including Rogue Trader, Ghost World and Vanity Fair. Her film Summer in February is out on June 14, and her promotional strategies are somewhat more refined.
The film concerns a love triangle between Alfred Munnings and two other Bohemian artists in Cornwall a century ago, so she is teaming up with the Royal Academy. "I wasn't sure they would be interested," she says, "since Munnings famously gave a speech when President of the RA attacking Modernism - that's Picasso, Cézanne and Matisse - which they are rather embarrassed about, but I suppose time heals all."
Munnings was a noted painter of racehorses, so she also has racing commentator and national treasure Clare Balding on-board as an enthusiastic supporter. But her biggest departure from producing tradition, she says, was actively involving her investors. "We have over 50 of them," she says. "Most film-makers are rather snooty about the money-men and women, and like to keep them at arm's length. But I've found if you let them in and involve them, they will behave! They have become some of the film's most active promoters, even block-booking cinemas in their home towns for opening week to invite their friends."
All that said, it seems you still can't beat a bit of old-fashioned Cannes glitz: Cross has Freida Pinto here with her, star of her next film Desert Dancer. The Chopard jewellery heist which has dominated the headlines may not have been, as PR guru Mark Borkowski mischievously Tweeted, a "PR scam", but it has done wonders for awareness of Sofia Coppola's film The Bling Ring, starring Emma Watson. And if Eva Longoria has dropped off the radar of late, her pantyless re-creation of Marilyn Monroe's skirt-billowing in The Seven-Year Itch ensures she's back. A cunning stunt indeed.