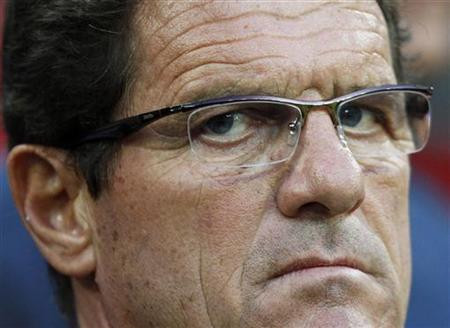 Fabio Capello will be keeping his fingers crossed this week as the he awaits the impending decision by UEFA to reduce Wayne Rooney's three-match ban at the European Championship.
Unconfirmed reports suggest that if the ban is not reduced, Capello may drop Rooney out of his Euro 2012 squad. However, it appears the Italian has privately told the striker he will go to Euro 2012.
Capello will accompany Manchester United player to Nyon on Thursday when the FA will urge UEFA's disciplinary committee to reduce or cut Rooney's suspension for his red card against Montenegro. If the star player does not get the leniency, he will miss all the England's three Group D games against France, Sweden and Ukraine.
Though the national coach is refusing to confirm Rooney's presence or absence for the European Championship, Capello appears to have second thoughts and will wait for the UEFA decision.
"I need to wait for UEFA's decision," the Italian was quoted as saying by the Mirror. "I need to see how the appeal goes. The sentence, three games, was too much and I hope the appeal will help us reduce it. I hope he [Rooney] will be available for game three."
Certainly Capello will try to keep his hopes high for Rooney after UEFA had showed compassion under pressure for Russia's Andrey Arshavin, who was banned for two games, in Euro 2008. Meanwhile, the England manager has plans to take his squad to Marbella in Spain for a week of training ahead of the tournament.