While playing a superhero might seem like everyone's dream, it's common knowledge that often actors have to spend hours in make-up and costuming trailers nailing their individual looks. This was certainly the case for Captain America: Civil War stars Chadwick Boseman and Paul Bettany, whose looks in the movie are completely made up of prosthetics and heavy make-up, so much so that the pair admit they had to get into a "Zen space" just to get through shooting.
Talking in an interview with Cinema Blend, Bettany, who reprises his Avengers: Age Of Ultron role Vision, and newcomer Boseman, who makes his debut as Black Panther, remembered what it was like to film the upcoming instalment during summer in Atlanta wearing their "uncomfortable" full-body costumes.
"It was a gradual process seeing the different parts of it put together here [in Los Angeles], and when they finished it there," Boseman explained. "And every time they'd add a part I'd be like, 'You mean it's going to cut off my air supply?' Oh, ok, let me figure out how to breathe like that. It was just a process of getting your mind right. I would talk to the stunt coordinator, some of the stunt guys, and they'd be like, 'Now you're in there. You have to go to this Zen space.'"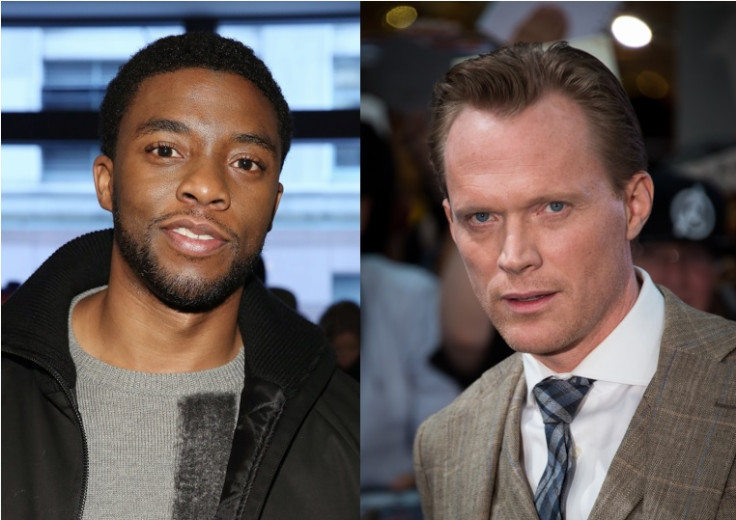 Bettany agreed with Boseman that being in one of the film's only head-to-toe costumes was arduous. However, he didn't seem to find the restrictions of the suit as bad as the time it took to put on the gear each day before they even began shooting.
"It's not the first day that's a problem," he told the publication. "It's not really the second day that's a problem. It's not the third day. And then you're waking up on the fourth day... By the time it's the fifth day of being in it, for 12 hours or whatever, you're waking up in the morning, and you've put your head on the pillow the night before, and you wake up and it's the morning. 'I gotta get back in the suit!'"
The 44-year-old, who previously featured in the Marvel Cinematic Universe off-screen as Tony Stark's computer system Jarvis, also admitted that he used the knowledge that many other actors would love to be in his position as fuel to overcome the difficulties of filming sometimes.
"You have to meditate, and, frankly, I meditate on the long line of actors that would love to be in my position right now," he said. "You really remember how fortunate you are. But there is no getting away from the fact that it's uncomfortable and challenging, in terms of keeping your inner peace."
Captain America: Civil War, directed by Anthony and Joe Russo, is due for release in UK cinemas on 29 April 2016.
For more entertainment news follow A-List on Twitter @Alistinsider