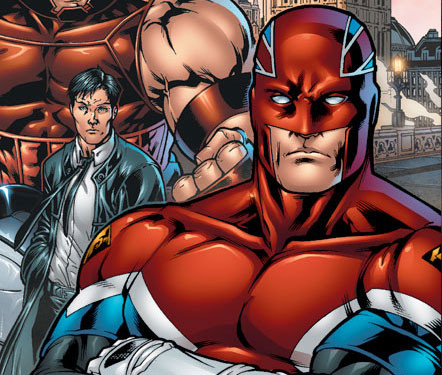 He's not one of Marvel's most famous characters, nor one of their more popular ones, but Captain Britain, a musclebound lunk in a red, white and blue onesie is being tipped by some as the latest superhero to hit the small screen.
Gritty superhero TV is a big deal at present, with major successes like Daredevil and Jessica Jones going down a storm on Netflix, and producers are now focusing on fresh properties to bring to the comic book boom. Cue Brian Braddock, an chunky fellow from Essex whose alter ego Captain Britain is a largely forgotten figure in modern comics, but who in the 1970s rescued Prime Minister Jim Callaghan from an insane Nazi supervillain known to his friends as Red Skull.
Chatter has built in nerdy circles over the last few days, ever since Ciara McAvoy, a Scottish poster artist who often works with Marvel, tweeted a fresh design for his outfit hinting at Braddock's return.
After a few days of fevered speculation that a show was already in the works, Chris Lark, an independent TV producer revealed that he was developing a pitch to take to Marvel for a possible 2017 inclusion into its ever-growing cinematic universe, and that nothing had yet been agreed.
Brian Braddock's backstory is as barmy as any hero's you'll hear. Descended from aristocrats, he nevertheless ends up living in Malden in Essex, and losing his parents in a lab accident. He takes a job at a nuclear research facility, and after a formative tussle with a villain and a motorcycle accident, he is approached by a time-travelling space wizard who tests him by offering him a powerful sword or a life-giving amulet. He picks the amulet, correctly, and is given the powers of Captain Britain, and becomes the uncommonly buff protector the the British Isles.
His powers include superhuman strength, rapid flight, and a sceptre which lets him shoot fire. British comics legend Alan Moore once had a hand in writing him, and this version of Braddock is usually considered by aficionados as his best self.
The character has gone through a series of incarnations, some of which are surely too corny for TV. He's also a known associate of the X-Men, and in the comics continuity he's the brother of Psylocke, a character played by Olivia Munn in this summer's upcoming X-Men Apocalypse movie – a fact which could make his on-screen incarnation harder to make, due to the ever-complex Marvel character licensing situation that exists between 20th Century Fox and Disney. Still, he's a known pal of Captain America too, and has his own European superhero team called Excalibur, both of which have rich potential.