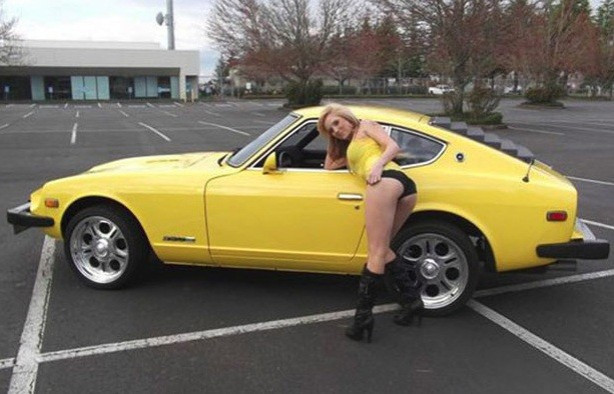 A US car dealer has courted controversy after using provocative photos of his own daughter to sell secondhand motors.
Kim Ridley of Eugene, Oregan posted snaps of his 20-year-old daughter Lexxa in her underwear alongside ads for his used cars on eBay.
In one picture tattooed Lexxa is shown in just knickers, a tight yellow tops and knee-high boots while she bends over a 25-year-old Datsun.
Since posting the ads, Ridley's cars are flying off his lot. The Datsun sold for almost £5,000.
Critics have accused him of exploiting his daughter.
One parenting blog slammed the salesman for "objectifying and sexualising his own daughter for personal gain".
Another viewer wrote: "I guess the father and the girl herself can't complain if she is mauled and treated as a sex object. Talk about fuelling the fire of pervy men. lol Way to go dad. Not much respect for your little girl eh?"
Despite the backlash, Ridley insisted he was just be doing his job as a businessman and appealing to his market.
"Girls and dogs attract people's attention. If I felt bad about it, I wouldn't do it," he said.