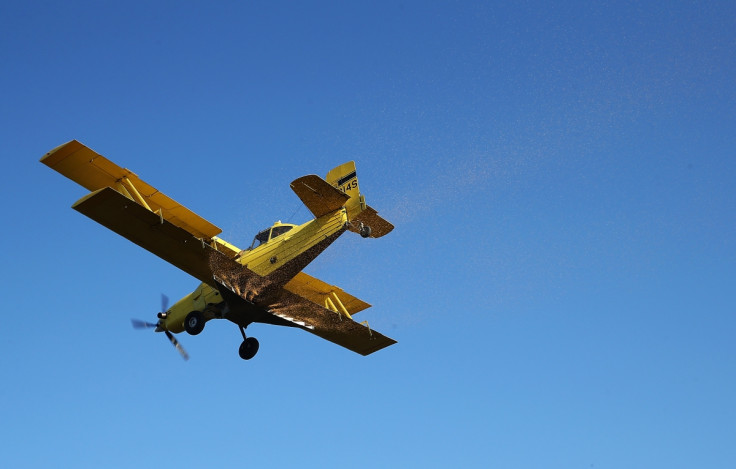 A small plane crash-landed on a California highway, killing a passenger in a car as it plowed into the back of the vehicle. The accident occurred about an hour north of San Diego County when a single-engine blue-and-white aircraft hit a black Nissan, according to the California Highway Patrol.
The car was pulled over to the side of the road while the driver was syncing his Bluetooth at the moment of the crash. A female passenger in the back seat was killed.
Two other passengers in the car and the diver suffered minor injuries. The pilot suffered severe head trauma, and a passenger in the plane also had major injuries.
"It hit a car in the back and skidded on the roadway," eyewitness Torrance Jenkins told NBC News. Jenkins was driving on the opposite side of the road when the crash occurred. "It could have been a lot worse," he added.
Officials are investigating the cause of the accident. The plane's landing gear had not been engaged, authorities said. It appears the plane touched down several times before hitting the ground.
"There are several witnesses who say the plane, without question, was in distress," said Howard Plagens of the US National Transportation Safety Board.
"The pilot may have been too busy to put it down, he may not have been able to put it down – we don't know at this point," he added.
The highway likely looked to the pilot like his best option for a landing site if he had a mechanical problem, Plagens said. "He's going to be looking for a place to land, and obviously with this rough terrain around here his options, depending on how high he was, are limited," he explained.
Bizarrely, the exact same plane may have crash-landed – but safely – on a previous occasion.
The same model and plane number used to be owned by former major league catcher Matt Nokes. He safely put the plane down on the same highway in 2000 not far from the scene of the recent crash.
"I just looked around, and it was all rolling hills," Nokes recalled. "Saw a break in the traffic and landed between the cars. We were fortunate.
The emergency landing happened on the plane's second flight. Nokes said the machinery was replaced and he went on to fly it regularly for four more years, but he never learned the cause of the fuel flow problem that triggered the emergency landing.