A 23-year-old Californian man has been charged with committing a hate crime following an arson attack on a mosque in Coachella City on Friday, in which no one was hurt. Carl James Dial, was arrested late last night after a fire at the Islamic Society of Coachella Valley. He has also been charged with arson and burglary and is being held on $150,000 (£99,000) bail.
Dial's father told NBC News that his son was a loner with possible psychiatric issues, and blamed "social media" for the attacks.
"He was caught up in social media," said John Dial. "Social media has produced people like my son, without person-to-person contact. I believe he was lacking in social skills."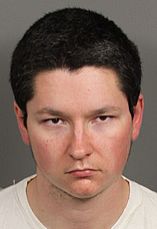 The attack happened around noon (8pm GMT) on Friday, 11 December, but flames were contained to building's front lobby.
Reymundo Nour, the mosque's imam, said he believed the attack had been a firebombing, but no details have yet been released on how the fire was started.
State fire investigators, the federal Bureau of Alcohol Tobacco, Firearms and Explosives, and the FBI are all on the scene helping with the investigation.
"We see this as a cowardly act of vandalism that we not tolerate in our community," Coachella Mayor Steven Hernandez told South California Public Radio.
In a statement released Friday evening, US congressman Raul Ruiz, who represents the area in which the mosque is located, called on authorities to investigate the blaze as a possible hate crime.
"Our faith in humanity will not be intimidated," he said. "And we stand together against any form (of) violence towards the innocent."
The mosque is about 75 miles from San Bernardino, where a married couple who, it is claimed, were Islamic extremists, killed 14 people in a hail of gunfire on 2 December.