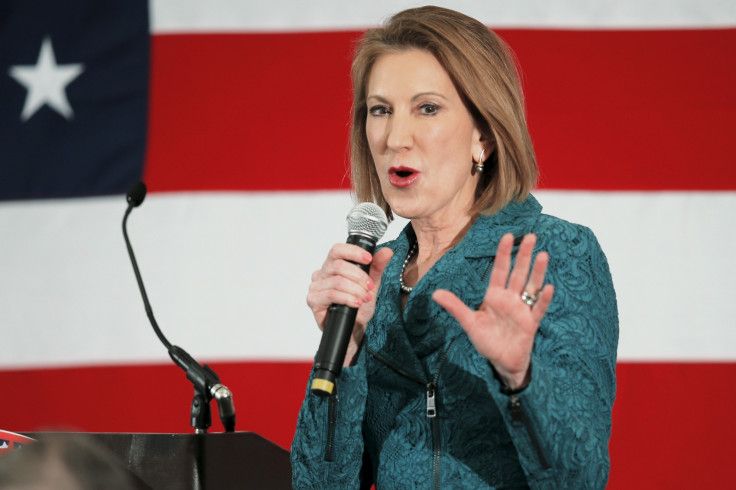 Politicians are all too aware of the need to present themselves immaculately in public, but some are still slipping up online, as 2016 US presidential candidate and former Hewlett-Packard CEO Carly Fiorina has just discovered.
Hours after announcing her running for president, a website in her name was discovered which starkly reveals how many HP employees she is accused of laying off during her tenure at the computer company. Although CarlyFiorina.com is safely owned by the 60-year-old Republican, CarlyFiorina.org is not.
This website displays the message: "Carly Fiorina failed to register this domain. So I'm using it to tell you how many people she laid off at Hewlett-Packard. It was this many." The message is followed by row after row of sad faces, then: "That's 30,000 people she laid off. People with families. And what does she say she would have done differently? 'I would have done them all faster.' - Carly Fiorina."
The quote comes from an interview with Fortune in July 2005, and continues: "Every person that I've asked to leave, whether it's been clear publicly or not, I would have done faster." During a 2010 interview with Fox News, Fiorina said: "I'm really proud of my record, and the good thing about business is the facts are clear." Asside from the job cuts, Fiorina sent jobs overseas and instigated a controversial merger with Compaq, before she was forced to resign in January 2005.
The website was created by Michael Link, assistant director of digital strategy at the Service Employees International Union, a regular supporter of the Democratic Party; Link told The Hill that the website is a personal project outside of his work at the SEIU. "It was something that I did completely unrelated to my job that I did with my own money on my own time. So it really has nothing to do with my job or my employer."
Link created the website in December 2014, shortly after Fiorina said on NBC's Meet the Press programme that she was considering a bid for the presidency. The site was picked up and tweeted by the communications director for the Democratic National Committee hours after Fiorina announced her intentions to run for the White House on 4 May,
Leslie Shedd, spokeswoman for Fiorina, told various US news publications: "No wonder the website is 'delighting Democrats' - it was created by an arm of the Democratic Party last december. Looks like Democrats have been worried about Hillary Clinton's most effective critic since last year."