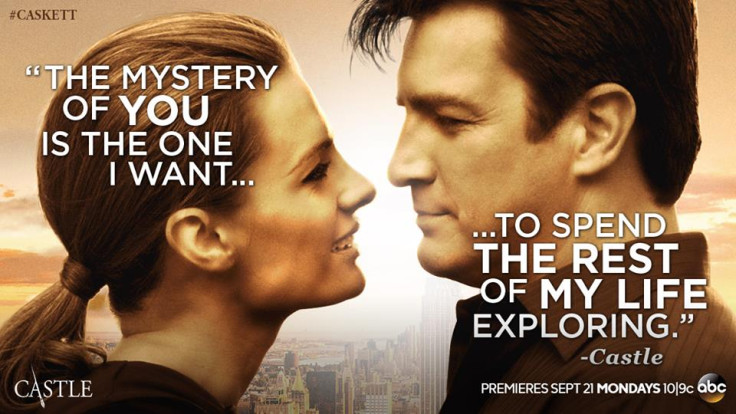 Just-married couple Rick Castle and Kate Beckett may not live a happily ever after, due to job changes by the couple in Castle season 8. The first look of the crime thriller by ABC reveals that the couple will go in different directions professionally and this will bring painful choices to their lives.
The official synopsis released by the network suggests that a stranger will direct the crime novelist to fulfil some tricky tasks through a series of dangerous events in order to reach his beloved wife. The upcoming season will show the same story in two parts, the first will be seen from Rick's point of view while the second will focus on how Beckett sees the events.
Kate has recently chosen to run for state Senate and this will irk her colleagues Ryan and Esposito, who will try to get higher in the police ranks, creating an interesting story line for the show, co-showrunner Terence Paul Winter told TV Line.
"After seeing Beckett ascend the ranks, they're realizing maybe it's time for them to start looking upwards in their own careers. In doing so, they start to butt heads a bit, but in a fun way, because the dynamic between those two has always been 'two brothers," Winter told the website.
The premiere episode is titled XY and the synopsis reads: "A call from a mysterious stranger ignites an explosive chain of events; the story is first told from Castle's perspective as he searches for Beckett.
"Rick, on the other hand, will have his own share of troubles as his smart daughter Alexis will join his PI Firm. But she is not the only new colleague for the mystery novelist as the father-daughter duo will be joined by a new security specialist, Hayley Vargas, played by series regular Toks Olagundoye.
Castle season 8 premieres on 21 September on ABC. Nathan Fillion and Stana Katic will return to the popular ABC thriller to reprise their role of Rick and Kate.
Watch the season 8 trailer here: