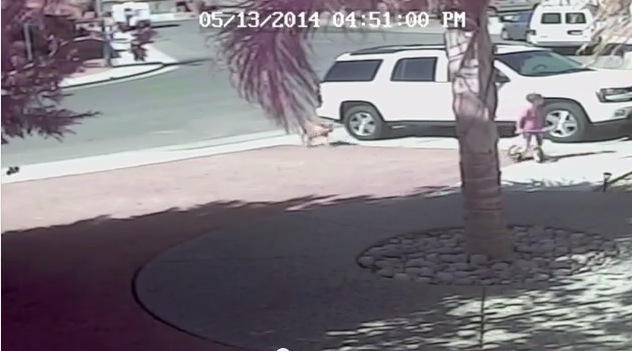 A video depicting a cat saving a four-year-old boy from a dog attack has gone viral on the web.
The footage, entitled My cat saved my son, appears to have been shot by a CCTV camera.
It shows a small boy riding his bicycle outside his home in Southwest Bakersfield, California, when a neighbour's dog ran at him and grabbed his leg with its teeth.
Within seconds, Tara, the brave family cat, pounced on the dog and chased him off.
The boy's mother, Erica Triantafilo, was outside with her son at the time the incident took place.
She took her son to a local hospital where doctor gave him ten stitches, according to local sources.
Mrs Triantafilo later said: "My cat defends my son during a vicious dog attack and runs the dog off before he can do additional damage. Thankfully, my son is fine!"
Jeremy told the ABC affiliate site Kero: "Tara is my hero". He added the cat saved him from "a mean dog - I got an owie!"
The attacking dog, identified as an 8-month-old Labrador-Chow mix, has been surrendered by its owner's family after the attack, local police said.
TMZ reported that it continued to be aggressive after it was captured.
It has been destroyed.