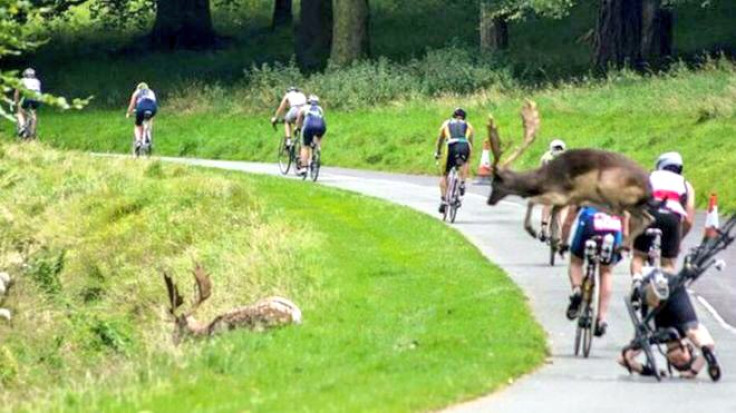 An athlete taking part in the 2016 Dublin City triathlon was left shaken after colliding with a stag during the cycling section of the event in the city's Phoenix Park on Sunday 28 August.
Shane O'Reilly, 30, from Blackrock in Dublin told Irish broadcaster RTE that he was left with a cracked helmet after the unexpected incident however still managed to carry on and finish the race.
"The helmet definitely saved me," he said. "Apart from that, my shoulder was a bit sore and I had a headache."
A photographer called Erik Scraggs managed to snap a well-timed picture of the collision in the city park, home to roughly 500 deer.
Speaking with the BBC, he said he never thought the stag would attempt to jump over the athletes.
He said: "As I was standing waiting for a group of cyclists to approach, I heard a rustling behind me and I turned to see a couple of stags ruining parallel to the road.
"I had a feeling they might make their way across the cyclists' path, so I tracked them though my lens. I never envisaged that they would actually try and leap over the cyclists.
"It all happened so fast. It was a really heavy crash. It was a relief to see the competitor get back to his feet and continue."
In the end, O'Reilly managed the complete the triathlon in two hours and 25 minutes, RTE reported. Luckily, both the stag and the cyclist are expected to make a full recovery.