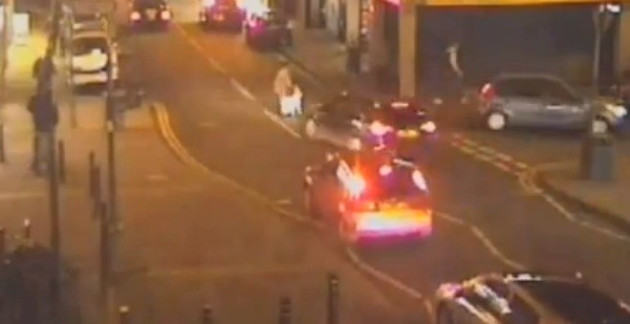 Police have released CCTV footage of a hit-and-run involving a woman and a toddler in Coventry in a bid to track down the driver.
The footage shows the 42-year-old woman and her three-year-old nephew being struck by a black Audi as they crossed King William Street in the Hillfields area of Coventry.
The driver is seen to briefly slow down following the collision, but then continues to drive off down the street.
Despite the extreme impact of the crash, which saw the pair fly into the air, both the woman and the toddler "miraculously" escaped with only minor injuries.
West Midlands Police said a witness supplied a partial number plate for the vehicle - EN57 - but have not yet been able to find the car or the person responsible for the hit and run on 7 December.
Officers believe the black Audi, which will have sustained frontal damage from the impact, may be being hidden in a lock-up or garage.
PC Abbi Jones from West Midland's Police Traffic Unit said: "This is a shocking piece of CCTV footage which captures a truly shocking incident.
"We have taken the unusual step of releasing the images - which carries a warning for viewers - in the hope that someone will recognise the car and come forward with information so that we can trace the driver."
Doctors at the city's Coventry and Warwickshire University Hospital confirmed the pair only suffered minor injuries during the crash, but Jones said it could have been "so much worse".
"At the time of the collision, the driver would not have known that the woman and child were uninjured," she added.
Anyone with information on the movements of the car before or after the collision should call PC Jones on 101. Alternatively, people who do not want to speak with police officers can call Crimestoppers anonymously on 0800 555 111.