Russian police have released CCTV footage of the last two women were seen alive – leaving a bar with a convicted rapist. Cops think the man sexually assaulted them and then put their bodies through a meat grinder before feeding the mince to dogs.
The footage shows sales assistants Daria Labutina, 29, and Olga Shaposhnikova, 28, leaving a karaoke venue in Volzhsky at around 6am on 13 October.
They are accompanied by Alexander Maslennikov, 31, who is carrying a bottle of wine. It is unlikely he had told them that he had recently been released from prison for violent sex crimes.
Police have arrested Maslennikov on suspicion of murder. They believe he either raped and killed the young women or killed them because they refused to have a threesome with him, according to local reports.
Parts of their bodies were found in a nearby forest. Cops are now working on the hypothesis that Maslennikov minced them up in a bid to escape justice.
Around six hours after the trio left the bar, Maslennikov was allegedly spotted in an appliance store, where he bought a meat grinder. Six hours later, he was seen leaving his rented apartment with two large bags in his hands, Crime Russia reported.
Police fear the 6ft 6in beast assaulted, or tried to assault the two women at that very apartment in the industrial city near the river Volga.
Local media have reported that the some of their remains – which have still not all been found – may have been fed to local canines.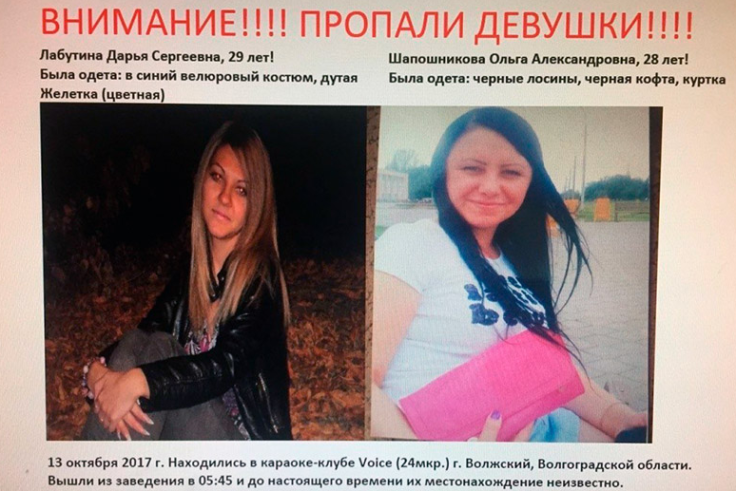 He was eventually picked up in Moscow and bundled into a police van – officers suspect that he may have been planning an attack a single mother that he had started dating in the capital.
The mayor of Volzhsky had offered a $12,000 (£9,1000) reward for information leading to his whereabouts. It is not clear if they received a tip-off from the member of the public.
In the CCTV footage, he does not appear at all forceful with the suspected victims, who worked together at a shopping mall. Friends and families mourning their loss said it was particularly tragic because the pair had spontaneously decided to go out together for the first time in ages.
When Maslennikov was led to the forest in handcuffs so police could press him about the remains of the two women, 500 people also turned up to hurl abuse at the suspect. Video footage of him being interrogated at a police station has also been released by police.