Two men have appeared in court in Zimbabwe over the killing of Cecil the lion, a much-loved animal which was lured from a nature reserve before being shot dead, skinned and beheaded.
Professional hunter Theo Bronkhorst and Honest Ndlovu, a safari operator and the owner of the land on which the animal was killed, are charged with poaching offences, and not possessing correct hunting permits.
US dentist Walter Palmer paid £32,0000 ($50,000, €45,428) to hunt the animal which he shot with an arrow, then killed with a gun on 1 July.
Cecil was one of the chief attractions at the Hwange National Park, and was being tracked as part of an Oxford University project.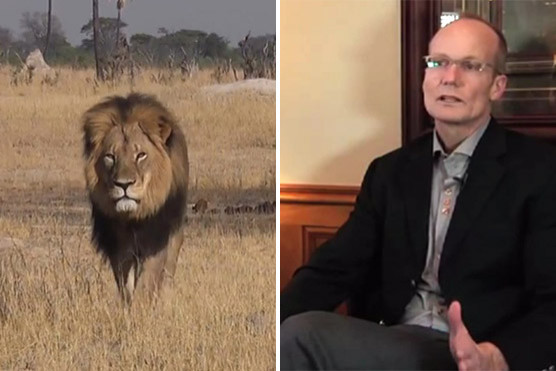 In a letter released to the media Palmer claims he was unaware of the identity of the lion, and regrets having killed it.
"I relied on the expertise of my local professional guides to ensure a legal hunt," he said in the statement.
Amid calls for him to face prosecution, he said he had not been contacted by authorities in Zimbabwe or the US but would "assist them in any inquiries they may have".
"Again, I deeply regret that my pursuit of an activity I love and practise responsibly and legally resulted in the taking of this lion," he said.
The website of Mr Palmer's Minnesota dental practice and its Facebook account were taken down after being inundated by comments from people furious about the killing of Cecil.
Mr Palmer's current whereabouts are unknown, and all inquiries are referred to a PR firm.
More than 265,000 people have signed an online Justice for Cecil petition, calling on Zimbabwe's government to stop issuing permits to hunt endangered animals.