The American hunter exposed as the killer of Cecil the lion is facing calls for prosecution, as two men involved in the hunt appeared in court with poaching charges in Zimbabwe.
US dentist Walter Palmer, who runs a dental practice in Bloomington, Minnesota, shot the animal with a crossbow and rifle near Hwange National Park.
Cecil, one of the park's most famous attractions, was reportedly lured to the edge of the reserve with bait before he was killed, sparking a backlash across the internet and in Palmer's hometown by conservationists and animal welfare activists.
In recent months, criticism of trophy hunters has taken centre stage online, with British comedian Ricky Gervais condemning big game hunters for excusing a "grim sport".
Kendall Jones
Kendall Jones, a 20-year-old student and cheerleader at Texas Tech University, sparked international outrage when she posted pictures of herself smiling next to animals she had recently hunted, including a lion, a leopard, an elephant, a rhinoceros and a hippopotamus.
Critics say Jones, who claims she is "doing her part in conservation" of big game, hunts and posts the images of her kills to attract social media followers. She made her first kill, a white rhino, when she was 13. White rhinos are classified as "near threatened" by the International Union for Conservation of Nature.
Juan Carlos
The former King of Spain came under fire for taking an elephant-hunting trip in Botswana in 2012, in the midst of Spain's financial crisis.
Spanish newspapers published a picture of Carlos with a gun in front of a dead elephant, unleashing fury from animal welfare activists worldwide. At the time, Carlos was the honorary president of WWF – who afterwards removed him from the position.
In 2006, the Telegraph reported Carlos has been accused of shooting a domestic bear fed with honey-laced vodka on a hunting trip in the Vologda region in Russia.
Salman Khan
The Bollywood actor was charged for hunting a protected animal for shooting two blackbucks – a type of antelope classified as "near threatened" – near Jodhpur in 1998. He has also been convicted in two other poaching cases during trips to Jodhpur, involving blackbucks and Chinkara deer.
Melissa Bachman
US television presenter Bachman angered the internet after posting a picture of herself posing next to a dead African lion she allegedly shot and killed in 2013. She tweeted the picture alongside the caption: "An incredible day hunting in South Africa! Stalked inside 60 yards on this beautiful male lion... what a hunt!" The image was added to a Facebook photo album called Africa 2013, which features pictures of zebra and antelope Bachman had hunted.
Teddy Roosevelt
The former US president was an avid hunter, taking hunting trips across Maine and the American West, before heading further afield after his presidency ended. In 1909, Roosevelt embarked on an 11-month safari through British East Africa (Kenya) and the Belgian Congo (Democratic Republic of the Congo).
Roosevelt and his colleagues killed everything from insects to lions, leopards, elephants and rhinoceroses. Some of the animals are displayed at the Smithsonian's National Museum of Natural History.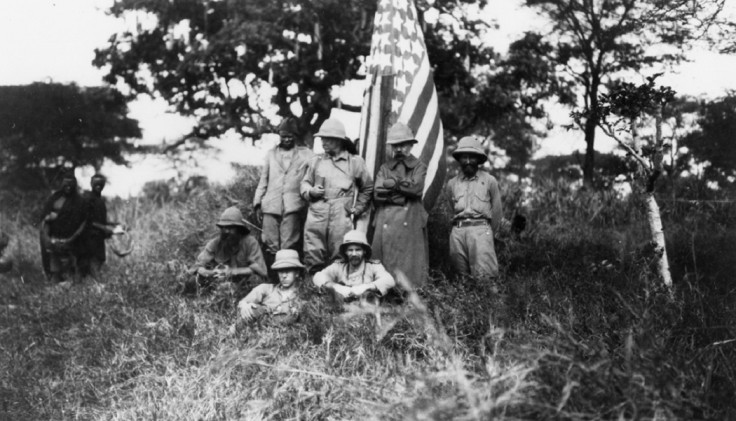 Rebecca Francis
American hunter Francis came under fire from Gervais earlier in 2015 after she posted a photo of herself smiling while lying next to a bull giraffe she had shot.
"What must've happened to you in your life to make you want to kill a beautiful animal and then lie next to it smiling?" he wrote. Francis claimed the animal was close to death and the carcass would be used to feed locals.
Having won a reality TV programme called Extreme Huntress in 2010, Francis became somewhat famous and regularly posts pictures of herself posing next to her prey, including zebras, buffaloes and bears. She hunts with a bow and arrow.