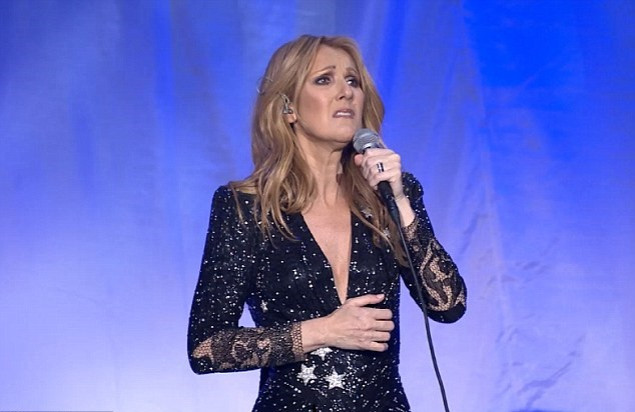 Celine Dion broke down on stage as she returned to her Las Vegas residency for her first performance following the death of her husband Rene Angelil. The singer paid tribute to her late husband and manager who died last month aged 73, after a long battle with cancer.
He died at his home in Las Vegas on 15 January, two days before his 74th birthday. The show began with a touching montage of family photos and videos of Rene as a child and with the couple's own children: Rene-Charles, 15, and twins Eddy and Nelson, 5. In the candid family photos he is seen kissing Celine's hand, and placing a hand on her pregnant belly. His voice is then heard saying "Thank you very much, have a great one tonight."
With the performance at The Colosseum at Caesars Palace on Tuesday streaming live on her website, she began Singing With One More Look At You/Watch Closely Now, receiving a standing ovation from the crowd.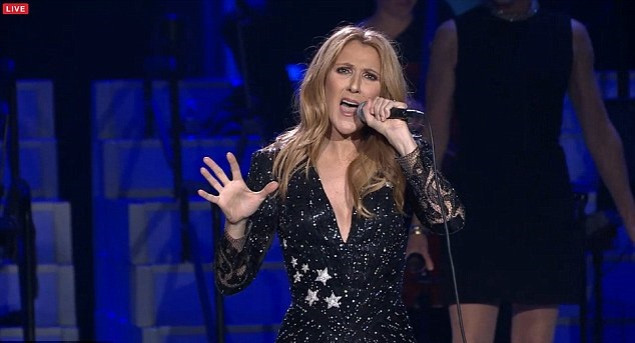 The 47-year-old fought back tears as she shared memories of her husband. "Through my life, I only had eyes for my husband, who sat out here night after night," she said. 'People thought that I was looking at him actually, but I didn't need to because every time I closed my eyes I felt Rene on stage with me.
"Whether he was seated in his seat right there, in the balcony, backstage or at home with the kids, he's always been onstage with me and nothing will ever change that," she said.
"Rene always surrounded me with the very best people possible. I trusted him so much that I never really had the chance to worry about anything. Now I guess, it is only a natural impulse to constantly question myself. 'Would you let the kids play with these toys? Is this song too fast? Is this song too slow? Don't talk too much?" she explained.
She added poignantly: "It is pretty amazing that since he's physically no longer with me, he is even more present." Describing his support and encouragement in his role as her manager she said: "Rene was my very best critic. He never told me what I wanted to hear, he told me what I needed to hear. You know, night after night on our way back home from the show, when he was so silent, I could sense that he was trying to know how to approach me without hurting my artistic feeling. But there were things that he had to tell me for my own growth,' she said.
She went onto describe their relationship and their devotion to one another which remained to the end. "Rene is the only man that I have known all my life. He always made me feel that we were on our first date," she said. "Never talking bluntly, and always impressing himself in a soft and gentle way. We were one and nothing has changed. We will always be one," she pledged.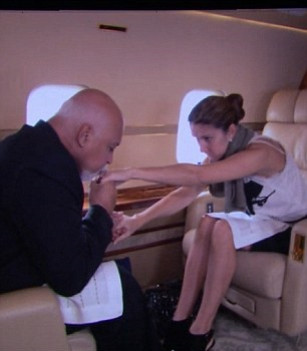 "You know, I might not hear his voice yet, but I talk to him, I think of him all the time. I feel, and I know he hears me, one way or another, I know he will give me a sign for his approval or not," she said. "And now, I can feel that he's telling me to zip it - and start singing," she joked.
She sobbed openly during an emotional rendition of her track, All By Myself. In a quote featured in the video montage, Dion explained that she would continue to sing as a way of honouring her husband who had dedicated his life to her.
"I understood that my career was his masterpiece, his song, his symphony. The idea of leaving it unfinished would have hurt him terribly," she said. "I realised that if he ever left us, I would have to continue without him, for him."