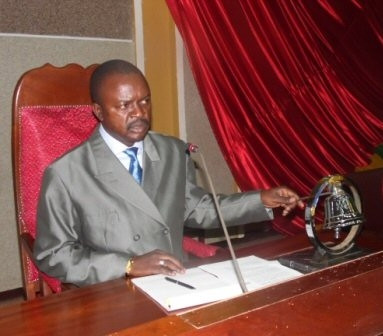 Alexandre-Ferdinand Nguende, CAR's interim leader, has warned warring sides to stop looting and tit-for-tat fighting.
"To the ex-Seleka, to the anti-balaka and the lovers of looting, I'm giving you a severe warning: The party is over. The chaos is over, the pillaging is over, the revenge attacks are over," Nguende said during a speech at police headquarters.
The interim leader has deployed hundreds of soldiers to the streets, ordering them to shoot anybody who disturbs the peace.
"I have launched an operation called 'Bangui without gunfire'. There will be a rapid intervention operation put in place, under my command. In case of robbery, this rapid intervention team will be working 24 hours a day and the number will be given to the population. Whenever there is a robbery, or vandalism, in any neighbourhood, minutes later the perpetrators will be neutralised," Nguende explained.
Police have also returned to the streets, while some residents have told the BBC that the capital Bangui is the busiest it has been for a year.
Nguende became interim president over the weekend, after the resignation of former interim leader Michel Djotodia. The first Muslim leader in the majority Christian country, stepped down on Friday along with Prime Minister Nicolas Tiengaye.
Djotodia was accused of being unable to halt the bloodshed that has caused over 1,000 deaths and seen thousands of people uprooted.
NGO International Medical Corps spokesman Josh Harris told IBTimes UK: "More than half a million people (out of a population of 4.6m) are displaced from their homes by recent fighting – many of them children. The most common conditions are malaria (39%), acute respiratory infections (20%) and diarrhoeal disease (18%)."
Djotodia became president after a coup d'état staged by the Muslim Seleka group last March.
Following the overthrowing of the then president Francois Bozize, from CAR's majority Christian population, the country has descended into sectarian violence between Muslim Seleka and Christian Anti Bakala groups.
Nguende will lead the country until a new interim president is chosen by the council.