Centrica Plc is making a good progress on its capital investment programme and expects to spend further £1.4 billion on organic investment during 2012, of which around half is expected to be in the upstream gas and oil business. The group is scheduled to release its interim management statement on Friday.
"Economic headwinds continue to prevail as we enter 2012 but I remain confident that the management is both appropriately skilled and suitably determined to meet the challenges that lie ahead. We are closely focused on delivering cost efficiencies, for the benefit of both our customers and our shareholders, while maintaining high levels of service and innovation. In parallel we will continue to invest for the future, driving long-term growth across the group," said Chairman Sir Roger Carr while commenting on the outlook and investments.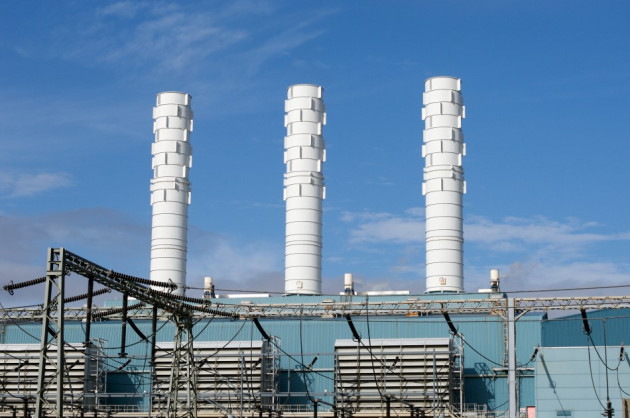 Last month, the parent company of British Gas completed its £936 million agreement with Statoil Petroleum AS to acquire a package of oil and gas production and development assets in the Norwegian sector of the North Sea. This will add 117 million barrels of oil equivalent (mmboe) of 2P reserves to Centrica's Norwegian portfolio and is expected to increase its production by 34,000 boe per day.
The integrated energy company also completed acquisition of ConocoPhillips' non-operated interests in the gas and oil producing Statfjord field and associated satellites last month. The £137 million transaction will increase Centrica's equity in the Statfjord field to 34.3 percent, adding 36 mmboe of 2P reserves.
Together both the transactions are anticipated to increase the group's reserves by 40 percent and production by over 30 percent.
"These acquisitions mark an important step in Centrica's strategy to grow its upstream business. As well as being one of the top three gas producers in the UK, we have one of the fastest growing companies in Norway, with around a third of our gas and oil production now coming from the region," said Mark Hanafin, Managing Director of Centrica Energy while commenting on the acquisitions.
For the FY 2011, the group reported total adjusted operating profits of £2,415 million, compared with £2,390 million a year ago.
Centrica holds a position of the third biggest producer of gas in the Britain continental shelf and plans to increase upstream UK gas and oil production by over 25 percent during the current year.
"Analysts are expecting our earnings to go up more in 2012 than they did in 2011. The outlook is positive in that sense," said CEO Sam Laidlaw.
Below is a summary of sector comparisons in terms of price earnings, earnings per share, dividend per share, dividend yields, return on equity and price-to-book ratio. The table explains how the company is performing against its peers/competitors in the sector. The table below represents top five companies based on market capitalisation.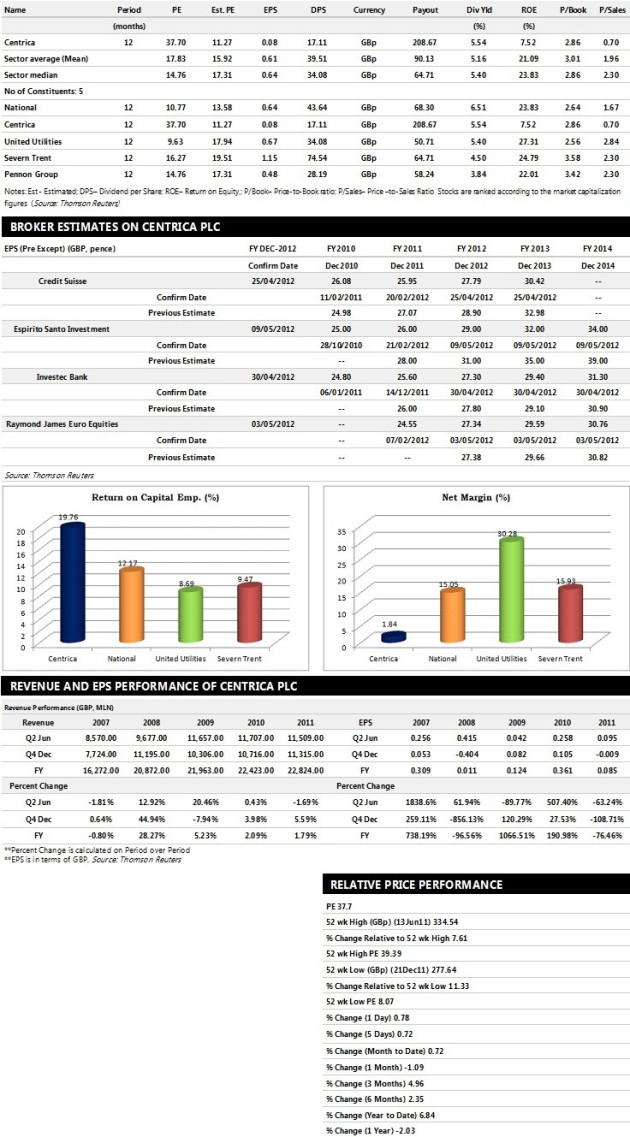 Brokers' Views:

- Espirito Santo Investment Bank gives 'Outperform' rating on the stock with a target price of 340 pence per share
- Raymond James Euro Equities assigns 'Outperform' rating with a target price of 350 pence per share
- Investec Bank recommends 'Outperform' rating with a target price of 423 pence per share
- Day by Day assigns 'Hold' rating
Earnings Outlook:

- Espirito Santo Investment Bank estimates the company to report revenues of £23,478 million and £24,708 million for the FY 2012 and FY 2013 respectively with pre-tax profits (pre-except) of £2,407 million and £2,615 million respectively. Earnings per share are projected at 29 pence for FY 2012 and 32 pence for FY 2013.
- Raymond James Euro Equities projects the company to record revenues of £23,245.73 million for the FY 2012 and £24,347.57 million for the FY 2013 with pre-tax profits (pre-except) of £2,684.44 million and £2,904.38 million respectively. Profit per share is estimated at 27.34 pence and 29.59 pence for the same periods.
- Investec Bank expects Centrica to earn revenues of £26,347.20 million for the FY 2012 and £28,158.10 million for the FY 2013 with pre-tax profits (pre-except) of £2,679.10 million and £2,890.90 million respectively. EPS is projected at 27.30 pence for FY 2012 and 29.40 pence for FY 2013.