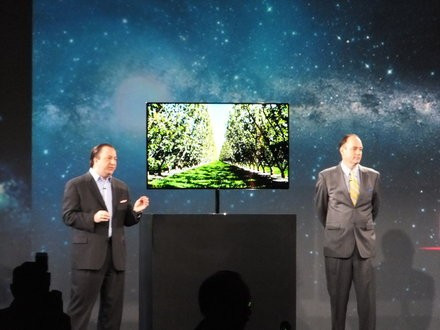 A common theme of CES this year is Smart TVs, and hot on the heels of LG, Samsung has announced its own range of internet-connected televisions.
At the Consumer Electronics Show in Las Vegas, Samsung announced its flagship ES8000 LED TV, which features a powerful dual-core processor, letting users surf the web while using or downloading multiple applications simultaneously.
Alongside the ES8000, Samsung also revealed a stunning 55-inch Super OLED television, which it claims represents "an entirely new category of television that the industry has long been awaiting."
The Korean firm continues: "Samsung's proprietary Super OLED technology incorporates the ultimate in vividness, speed and thinness, with true-to-life picture quality, enhanced colour accuracy and motion picture quality even in the fastest scene."
The OLED TV also includes 'Smart Interaction', Samsung Apps, 3D functionality and multitasking.
After LG announced gesture- and voice-based inputs to control its televisions, Samsung has announced the use of similar technology in its new models. Smart Interaction enables Smart TV owners to "communicate with their TVs via voice control, motion control and face recognition.
"Thanks to a built-in HD camera and dual-microphones, consumers may simply said 'Hi TV' to turn on voice control, speak "Web Browser" to get online, and browse and select results or increase the volume by just pointing a hand."
Much of this motion- and voice-based control is similar to that featured by the Xbox Kinect from Microsoft.
An eco-system that links its products together in the home is something Samsung is keen to develop, with Smart Content incorporating three new services - Samsung Smart TV, Family Story and Fitness and Kids.
These three services enable "families to share photos and messages with each other, easily sync their fitness goals and activities, and help kids partake in educational viewing while recording progress every step of the way."
Finally, Samsung announced its new 'Evolution Kit' which, in a world first, will keep older models of Samsung televisions up to date. The kit comprises of hardware and software, will be released yearly, and slots into the back of older models, bringing select 2012 models and newer Smart TVs up to date.