US robotics firm MegaBots is vying to win investment from Sir Richard Branson and will be showcasing its giant robot on-stage at the annual Extreme Tech Challenge (XTC) Semi-finals 2016 in Las Vegas.
MegaBots, a start-up that wants to bring giant robot sports to the US, is a semi-finalist in the XTC – a competition that celebrates advanced technologies co-ordinated by Branson and venture capitalist Bill Tai. Following rigorous selection out of over 1,000 candidates, 10 teams have been picked to present their solutions at the XTC Semi-finals at CES 2016, which will take place at the Venetian Las Vegas – Bellini Ballroom on 8 January.
Aside from MegaBots, the nine other teams include Star Wars BB-8 robot toy creator Sphero, pregnancy tracker wearable device start-up Bloom Technologies, marijuana digital platform founder MassRoots and Giroptic, the creator of the world's first full HD 360-degree camera.
They are all vying for the chance to be one of three companies chosen to pitch directly to Branson on his favourite Caribbean retreat, Necker Island. The overall winner will receive investment, infrastructure and business advice from Branson.
In September 2015, MegaBots raised $500,000 (£340,000) in funding on Kickstarter to upgrade its giant wearable mecha robot suit, similar to those seen in sci-fi anime franchise Gundam and blockbuster film Pacific Rim. The start-up's fortunes improved after it challenged Japanese robotics firm Suidobashi Heavy Industry and its Kuratas robot to a duel in July.
To everyone's surprise, Suidobashi's creator Kogoro Kurata accepted, on the condition that the duel was conducted using close-range combat rather than shooting weapons at each other. News of the duel went viral on the internet and MegaBots soon attracted support from Nasa, various robotics partners and even the founders of TV show BattleBots.
MegaBots Mark 2 to fight drones at CES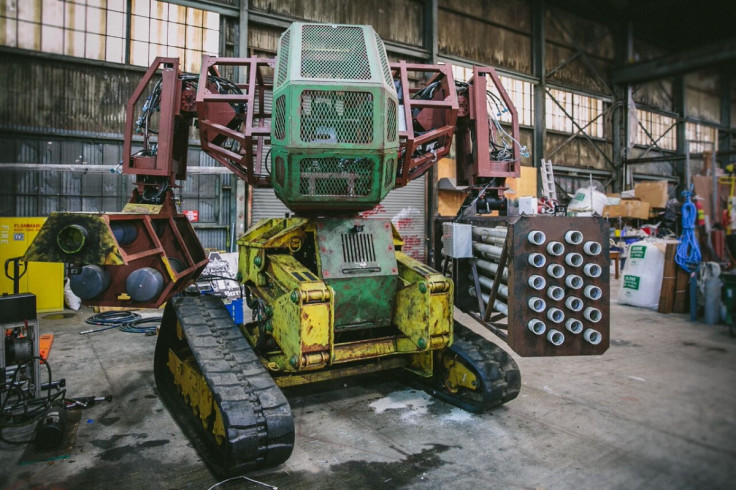 MegaBots' creators are hoping to make a giant robot sports event called the "MegaBots League" – where humans ride in the suits and battle against each other in stadia – into a viable sporting event in the US. To that end, they really need to be able to demonstrate how well their robot suit performs in a live combat situation.
As a result, on 9 January, the MegaBot Mark 2 will be taking part in the first annual Xtreme Drone Racing Championship, held in downtown Vegas. The championship, like other drone racing competitions, will pit drones against other drones in a race. However, at the same time, the drones will also be competing against the MegaBot Mark 2.
Considering that the MegaBot giant robot suit doesn't fly and no other details are available, we can only assume that the drones will be doing their best to decimate the MegaBot by attacking it, and that the giant robot suit will retaliate against the drones.
"This is what the world has dreamt about for 20 years. MegaBots is taking all of the cutting-edge robotics research that's been happening behind closed doors, and busting it through the wall in the most epic entertainment phenomenon of ourgeneration," said MegaBots co-founder and co-pilot Matt Oehrlein.
Fellow co-founder Brinkley Warren added: "People love giant robots. People love sports. MegaBots is the major leagues of giant robot sports – 2016 is the year of extreme robot sports going mainstream."