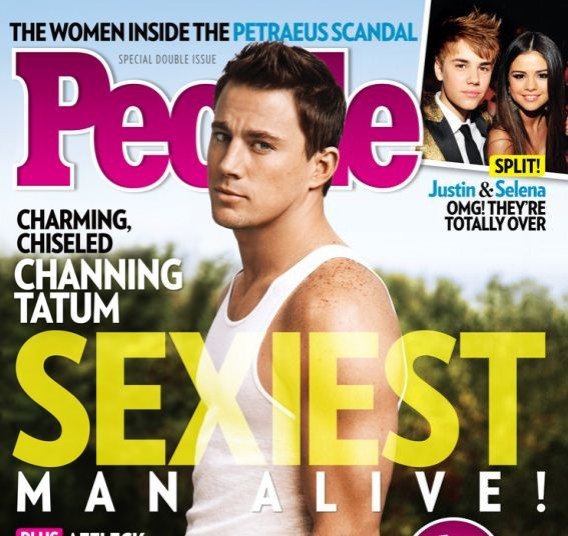 Channing Tatum has been crowned with the prestigious title of the Sexiest Man Alive by People magazine.
The 32-year-old actor, who delivered hit roles as a male stripper in Magic Mike and an undercover cop in 21 Jump Street, couldn't believe that he won the top spot for this year.
"My first thought was, 'Y'all are messing with me," the Alabama-born actor said: "I told [wife] Jenna after we'd been in the bathtub washing our dogs because they'd gotten skunked."
He revealed that his wife, actress Jenna Dewan-Tatum, also couldn't believe his luck either.
"Yeah, she calls me [the Sexiest Man Alive] now," he added.
Later, she took to Twitter to share her excitement, "Well obviously I agree! Good job @peoplemag! Congrats to my humble,loving,talented and yes- SEXY- love @channingtatum!!"
The hunky actor also discussed the prospect of becoming a father, admitting that he feels he is ready for the responsibility and so does Jenna.
"I'm ready; I think she's ready," Tatum said, "The first number that pops into my head is three, but I just want one to be healthy and then we'll see where we go after that. It's really easy for us guys to say, 'I want like 15 kids,'" he continued, "Jenna will be like, 'Well you better get another wife!'"
However, Jenna could not stop gushing about her husband to whom she has been happily married since 2009,
"People know him to be fun and sexy, but they don't know how emotionally deep and spiritually open he is," Jenna told the magazine, "He is such an open-hearted person; what you see is what you get."
Meanwhile, Tatum who is gearing up for his role to play Olympic wrestler Mark Schultz in the 2013 film Foxcatcher, admitted he likes to stay fit.
"I like to be lean. If I get too bulky I can't move well and I like to move," he added, "When I'm not training, I get really round and soft."
Tatum joins a long list of A-list actors who have received the 'Sexiest Man Alive' honour, including Brad Pitt, George Clooney, Johnny Depp, Hugh Jackman, and Bradley Cooper. And apart from being People's Sexiest Man Alive, Tatum also bagged the "Movie Star of the Year" title for GQ's Men of the Year awards.