Fire is now OUT at Charing Cross station. Station will be closed for possibly another 2 hours. pic.twitter.com/ZIl6OfEAUb

— Darren McCaffrey (@DMcCaffreySKY) November 23, 2014
Charing Cross station has been evacuated after a train caught fire on platform six just before 11am on Sunday.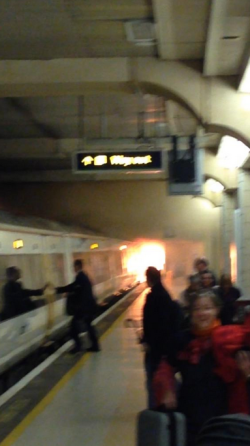 Some social media users also reported "an explosion", but this has not been confirmed.
Smoke has been billowing down the platforms and encroaching into local hotels, including nearby Thistle and Amba Hotels, it has been reported.
Fire engines are currently attending the scene and the station has been closed. It is expected to be stay shut until at least 2pm, and widespread travel delays.
A spokesperson for the London Fire Brigade told IBTimes UK that the fire has damaged the front carriage of a train, but it was contained and put out by firefighters shortly after the blaze started.
Rails on the adjacent platforms have also been damaged, leading to fears over lengthy delays for commuters during the start of the working week.
The cause of the fire has not been confirmed, but it is believed to be an electrical fault.
Twitter users have been posting photos of the blaze, with one man, Vincenzo Minore writing that he was "running away from Charing cross station", and posting video of him fleeing.