An animal charity has been slammed for a campaign that puts pictures of household pets on prostitute calling cards to raise awareness about neutering.
Mayhew Animal Home admitted the new campaign was provocative but said shock tactics were necessary to highlight what it called one of the "gravest animal welfare issues" in the country.
The postcards, which have a design modelled on so-called tart cards, carry captions such as "Pre-op sexy beast looking for no-strings-attached sex. Happy to share partners. Likes it ruff," while another reads: "Wild Thing!! Who knows where I've been? Untameable. Insatiable."
The cards also feature a phone number which leads to a neutering hotline at the Mayhew.
While the campaign was meant to highlight the "chronic" numbers of abandoned and unneutered cats and dogs in a humorous way, some critics said they were disappointed by the charity.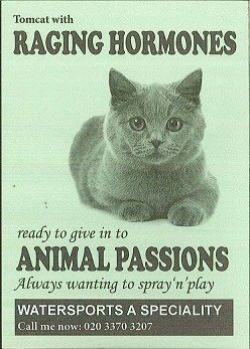 Fiona Thomas of Mothers' Union said the Christian charity would be complaining to the Advertising Standards Authority (ASA).
She added: "It is extremely disappointing and we would urge any parents who see this in the public domain to complain to the ASA.
"Children are very important members of the public and have a right to be protected from sexualisation.
"The Mayhew has used sex to sell without any consideration of the age of the public they are targeting. Children are likely to see it and it is disappointing to think that because other people use sex to sell, they can."
Mayhew CEO Caroline Yates said: "We are very frustrated at seeing countless unwanted and abandoned animals arrive at our rescue centre as a result of the chronic pet overpopulation crisis in this country.
"Charity campaigns about neutering are simply not infiltrating into the population's psyche and we are seeing rising numbers of stray animals each month.
"That is why we have taken a bold stance with a provocative campaign in order to make people pay attention to one of the gravest animal welfare issues in this country."