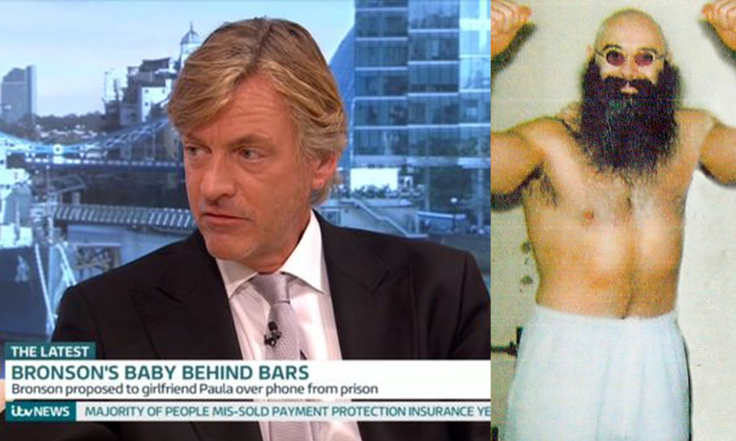 Britain's most notorious prisoner, Charles Bronson, is suing TV host Richard Madeley for defamation after he wrongly reported on Good Morning Britain that the criminal attacked a prison governor last year.
The incident occurred while Madeley was interviewing former Coronation Street star Paula Williamson, who is engaged to Bronson — who changed his name to Charles Salvador in 2014 in tribute to his favourite artist, Salvador Dali.
"He keeps re-offending," Madeley told the 37-year-old actor. "We have his charge sheet. In his last incident he attacked a prison governor last year."
Williamson corrected him, saying Bronson hadn't committed an offence since 2013, after which the 61-year-old looked down the camera and said: "Charlie, you're watching now. You're lying. You know it was 2016 mate. It was, it was last year."
He later added, to Williamson: "He's a bad 'un and he's got a lot of form."
As part of the legal action, Bronson wants the ITV morning show to retract Madeley's comments and pay an undisclosed amount of compensation.
Good Morning Britain bosses have acknowledged the notice of legal action from Bronson according to The Sun, which also reports that the infamous criminal told a friend that his mother was upset by the false claims
"I promised her I wouldn't get involved in more violence. She believes me," he reportedly said.
Born Michael Gordon Peterson, Bronson was imprisoned in 1974 for armed robbery, and has spent 36 of the intervening years in solitary confinement due to repeated bouts of violence against fellow inmates and prison guards, including taking some hostage.
In 2014 he did attack a prison governor after personal items, including his artwork, were withheld from him. He was found guilty and sentenced to two years in 2016, having already been given a life sentence in 2001 after kidnapping a prison art teacher.
In a book about this life, he said: "I'm a nice guy, but sometimes I lose all my senses and become nasty. That doesn't make me evil, just confused."
Bronson was famously portrayed by British actor Tom Hardy in a 2008 film about his life that proved a cult classic and a star-making turn for the future Mad Max and Dark Knight Rises star.