The parents of terminally ill baby Charlie Gard are ending their legal battle for treatment following months of dispute.
Chris Gard and Connie Yates announced at the High Court that they are no longer fighting with London's Great Ormond Street Hospital (GOSH) to allow him to fly out to the US to receive experimental treatment for Charlie's rare mitochondrial disease.
The parents said they made the decision following the latest round of medical reports and scans on the boy who was born in August 2016.
Grant Armstrong, the lawyer representing Charlie's parents, told Justice Francis at the High Court that "time had run out. The parents' worst fears have been confirmed. It is now too late to treat Charlie."
The parents said continuing the fight for Charlie to treat his condition, which has left him severely brain damaged and unable to breathe without machines or move his arms and legs, would only cause further pain in a case they described as "worthy of a Greek tragedy".
"Dark days lie ahead for these parents," said Armstrong. "The parents wish to treasure their remaining time with Charlie, however short that may be."
Doctors at the hospital had argued that the treatment in the US wouldn't help Charlie and may even and cause him further pain. They suggested switching off his life support and allow him to die peacefully.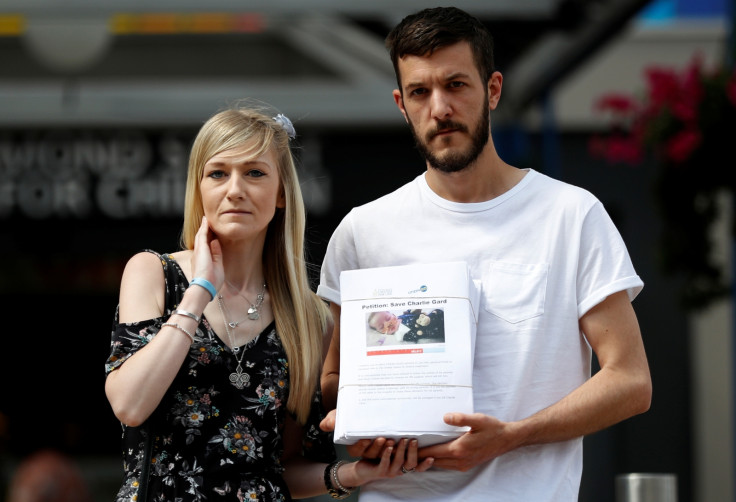 Speaking outside the High Court in London, Gard said: "This is one of the hardest things we will have to say...this is about a sweet innocent boy born with a disease.
"We have decided its no longer in Charlie's interest to have treatment. Our son is an absolute warrior and we will miss him.
"We are now going to spend our last precious moments with our son, we would ask our privacy is respected.
"We are so sorry we could not save you, sleep tight our sweet boy, we love you."
Dr Michio Hirano, an American neurology expert from Columbia Medical Center in New York who came to London to examine Charlie, was one of those who concluded it was too late for the 11-month old to undergo the experimental NBT therapy.
Hirano previously said he believed there was at least a 10% chance his therapy could improve Charlie's condition.
The case gained attention around the world after Charlie's parents received support from high-profile names such as Pope Francis and US president Donald Trump.
In a statement, the hospital said: "The hearts of all at GOSH go out to Connie Yates and Chris Gard. Over the weekend, they communicated their desire to spend all the time they can with Charlie whilst working with the hospital to formulate the best possible plan for his end of life care.
"The agony, desolation and bravery of their decision command GOSH's utmost respect and humble all who work there. Whilst GOSH has striven to work with them throughout, Charlie's needs have taken priority.
"It is greatly hoped that in the days ahead, it will be possible to extend to his parents the same quality of care with which Charlie has been provided and to concentrate on the family as a whole."
The decision arrived after staff at Great Ormond Street Hospital reported to police that they had received death threats while dealing with Charlie's case.