Charlie Hebdo Paris massacre suspects: What we know about the brothers Said and Cherif Kouachi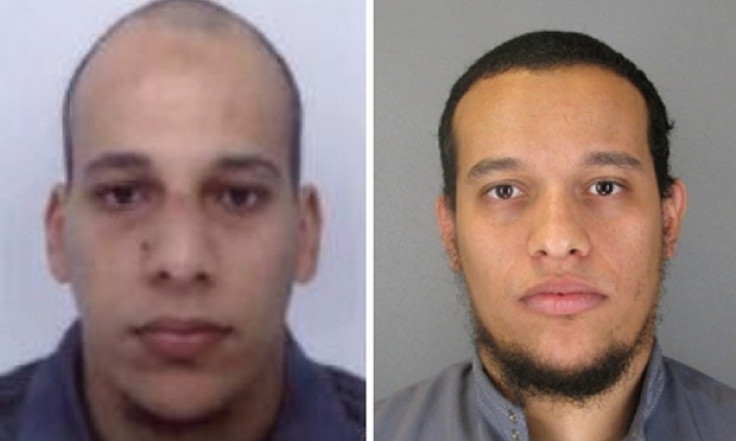 Two brothers thought responsible for the terror attack on the Paris offices of the satirical magazine Charlie Hebdo, in which 12 people were murdered by gunmen, are still at large.
There is a third suspect, Hamyd Mourad. Little is known about the 18-year-old, who handed himself in to police in a small northern French town called Charleville-Mézières, which sits near the Belgian border. He is thought to be homeless after recently leaving high school. His nationality is unknown.
But we know a few things about the Paris-born brothers Said and Cherif Kouachi, who are French nationals of Algerian descent and in their early thirties.
They were both under police surveillance
French prime ministers Manuel Valls told Europe 1 that police were already monitoring the pair over their Islamist ties. They were reportedly identified after Said left his ID in the car used in the attack on Charlie Hebdo.
Cherif Kouachi, also known as Abou Issen, was convicted of terror-related charges in 2008
He was found guilty of helping funnel fighters to Iraq's al-Qaeda branch as it led an Islamist insurgency in the country during the US-led occupation.
The 32-year-old was handed a three year sentence with 18 months suspended. He was released upon conviction having already spent 18 months in detention pending trial.
He told the court he had been inspired by the Abu Ghraib prison abuse scandal and images of the torture by US forces of Iraqi prisoners. Police first arrested him in Paris as he was about to take a plane to Damascus, Syria, with another man.
The two are orphans who weren't raised as devout Muslims but were later radicalised
According to a 2005 article in French newspaper Liberation, the pair were orphaned and raised in a French foster home before heading to Paris as adults. Cherif was a pizza delivery man and a fitness coach. He also drank, smoked and had a girlfriend.
Then the two men met Farid Benyettou, a hate preacher who according to the New York Times "gave sermons calling for jihad in Iraq and justifying suicide bombings" and attended his talks.
The Washington Post reports that, along with Benyettou, the brothers lived in the 19th arrondissement of Paris, "a community with a sizable Arab population" where they joined a growing network of Iraq-conscious jihadists.
© Copyright IBTimes 2023. All rights reserved.