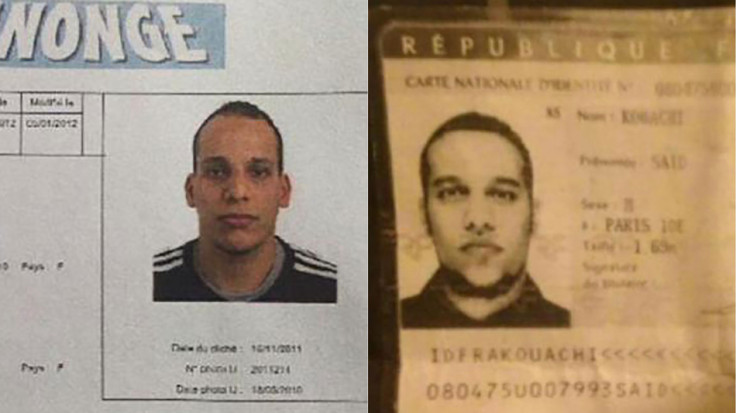 According to unconfirmed reports, French police have identified the three suspects linked to the Paris attack on the offices of Charlie Hebdo, which left 12 people dead.
Two of the suspects are believed to be brothers, identified as Said and Cherif Kouachi. The brothers are in their early 30s, are of French nationality, and reside in Paris. A third suspect, Hamyd Mourad, 18, is said to be from Reims. Police believe he is a high school student.
35-year-old Cheriff Kouachi, was convicted on terrorism charges in 2008. According to a 2008 Bloomberg report, he was first arrested in Paris in January 2005, when he was caught trying to fly to Damascus, Syria, on his way to join the Iraqi insurgency. Cheriff Kouachi reportedly told a court that he was inspired by detainee abuse by U.S. troops at Baghdad's infamous Abu Ghraib prison, though he claimed he was relieved he was stopped
In the 2005 Pittsburgh Tribune Review report, citing Kouachi's lawyer, it stated that the would-be terrorist was not religious, drank alcohol, smoked marijuana, had premarital sex with his girlfriend and had a job delivering pizzas. At the time, Kouachi had learned "the basics" on how to handle Kalashnikovs, Le Monde reported.He was convicted in 2008 of terrorism charges for helping funnel fighters to Iraq's insurgency and given a three-year sentence, half of which was suspended.
The assailants, who have been linked to a Yemeni terrorist network, were armed with Kalashnikov rifles and are believed to be trained in military combat. It has been suggested they may be radicalised jihadists who have recently returned from Syria.
The gunmen entered the offices of the magazine and killed at least 12 people, according to French police officials. Two of those were police officers. It has since been reported that one of the police officers, who was killed at close range by a bullet to the head was a French Muslim, named as Ahmed Merabet.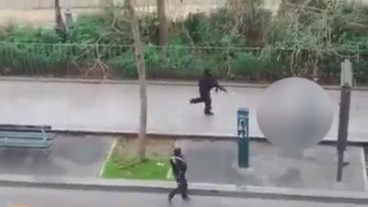 According to reports, the attackers initially entered a neighbouring building by mistake, before entering the offices of the satirical magazine. They gained entry to the building after confronting a woman at the reception with her child. Cartoonist Corinne Rey and her daughter watched helplessly as two masked men brandishing automatic weapons shot and killed two of her colleagues in the office they worked.They threatened to kill the child if Rey did not give them an entry code allowing access to the offices.
Georges Wolinski, Stephan Charbonnier, Bernard Verlhac and Jean Cabut were shot dead during an editorial meeting at the magazine's offices. Witnesses said the assailants called out the names of individuals to identify their targets before opening fire as they shouted 'Allahu Akbar.'
The attack has sparked protests around the world and has been condemned by world leaders, heads of state and religious leaders.
The Archbishop of Canterbury described the attack as "an act of the most extraordinary brutality and barbarity."
Speaking from the White House, President Obama condemned the "cowardly, evil attacks" in Paris.
President Hollande has pledged that the perpetrators of the Paris massacre will be brought to justice and dealt with "severely." "We will win because we have all the capacity to believe in our destiny," he said. Calling for unity amongst the French people he said: "Vive la république. Vive la France."
The assault has been labelled the worst terrorist attack in France in 50 years. The gunmen are still at large.