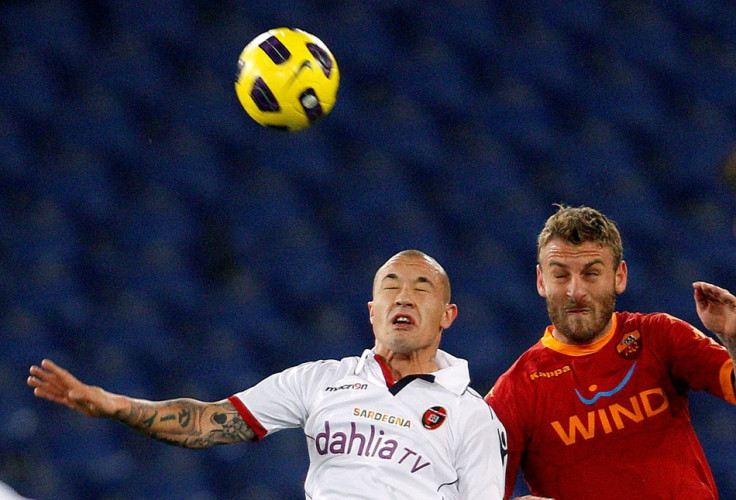 Chelsea had a bid of €70 million turned down for Daniele De Rossi, according to Roma director Bruno Conti, with the Italian side claiming that their prized possession will stay for the long term.
De Rossi has been linked on numerous occasions to Premier League clubs, and with his deal at Roma expiring at the end of the season, the 28-year-old is more so than ever the subject of transfer talks.
Chelsea have in particular been mentioned as a possible suitor for De Rossi, but Conti claims that despite the rich club bidding a sky-high fee for the star, Roma said no because they wanted to show loyalty towards their player.
"De Rossi will stay at Roma, no doubt about it," Conti told Radio Mana Mana.
"I would like to remind people of the following: Chelsea offered €70m [£60m] for him, a lot of money, but [then president] Rosella Sensi turned it down."
De Rossi has spent almost his entire footballing career at Roma, moving to the youth academy in 2000 and then onwards to the senior side in 2001. Tottenham have also been closely linked with the Italy international, but Chelsea are able to offer far higher wages than their Premier League rivals, and a €70 million bid would be out of the north London side's realms.
If Chelsea had gotten hold of De Rossi for €70 million, the price would have broken the British record for transfer fees in purchasing a player. Cristiano Ronaldo currently holds the record for highest price for a player sold, at £80 million, while the Blues currently have the most expensive player ever to be purchased in English football, in the form of £50 million striker Fernando Torres.
De Rossi has made over 250 appearances for Roma, scoring 30 goals for the side, and has been an integral part of the Italy squad in their 2006 World Cup final win, and the 2010 World Cup campaign, where he scored two goals as the side exited in the group stages.
The midfielder is yet to complete contract extension talks with Roma, and should he not be able to come to an agreement with the club, he could leave for nothing next summer. And Chelsea may not be so interested in De Rossi the second time around, with Andre Villas-Boas taking over the managerial position from Carlo Ancelotti since the bid was made.