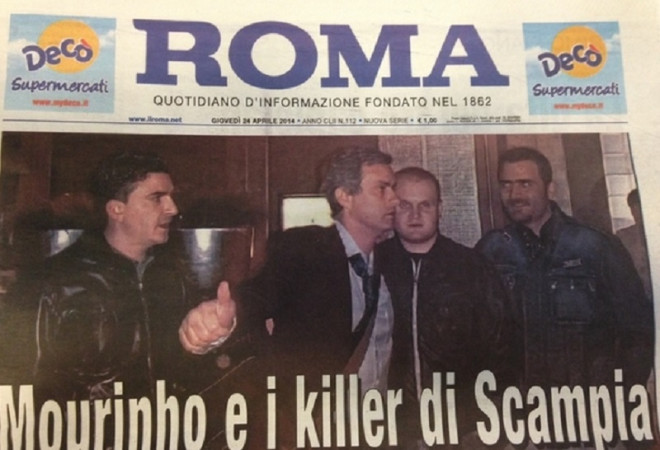 Photos with Chelsea boss Jose Mourinho and captain Frank Lampard are being used by two Italian mafia mobsters to fight off charges of murder.
Supergrasses told police that Cesare Pagano and Rito Calzone ordered and executed the killing of 43-year-old Carmine Amoruso who was shot dead in a bingo hall in Mugnano near Naples in 2006.
Calzone, however, claims that the night of the murder he was in Barcelona to watch Chelsea playing in a Champions League match against the home team.
To support the claim his lawyers have produced pictures of him posing alongside the Special One and several Chelsea players, including Lampard, Hernan Crespo and Nuno Morais, in the Catalan capital.
The snap were taken at the luxury Arts Hotel, where the London team was staying ahead of the match against Barcelona.
Calzone was also there, with two other alleged affiliates of Mafia's Naples group, the Camorra, who are also seen in the pictures, published by Italian newspaper Roma.
The three Mafiosi football fans had reportedly paid €7,000 (£5,000) a night for three suites at the hotel.
Calzone was sentenced to 14 years by a court in Naples in 2010 over the killing, which police said came as part of a bloody turf war amid rival Camorra gangs.
The pictures, plane tickets and hotel receipts are being used in the appeal.
Barcelona and Chelsea drew 1-1, but the Spanish team went through to the quarter finals winning 3-2 on aggregate after beating the Blues in London.