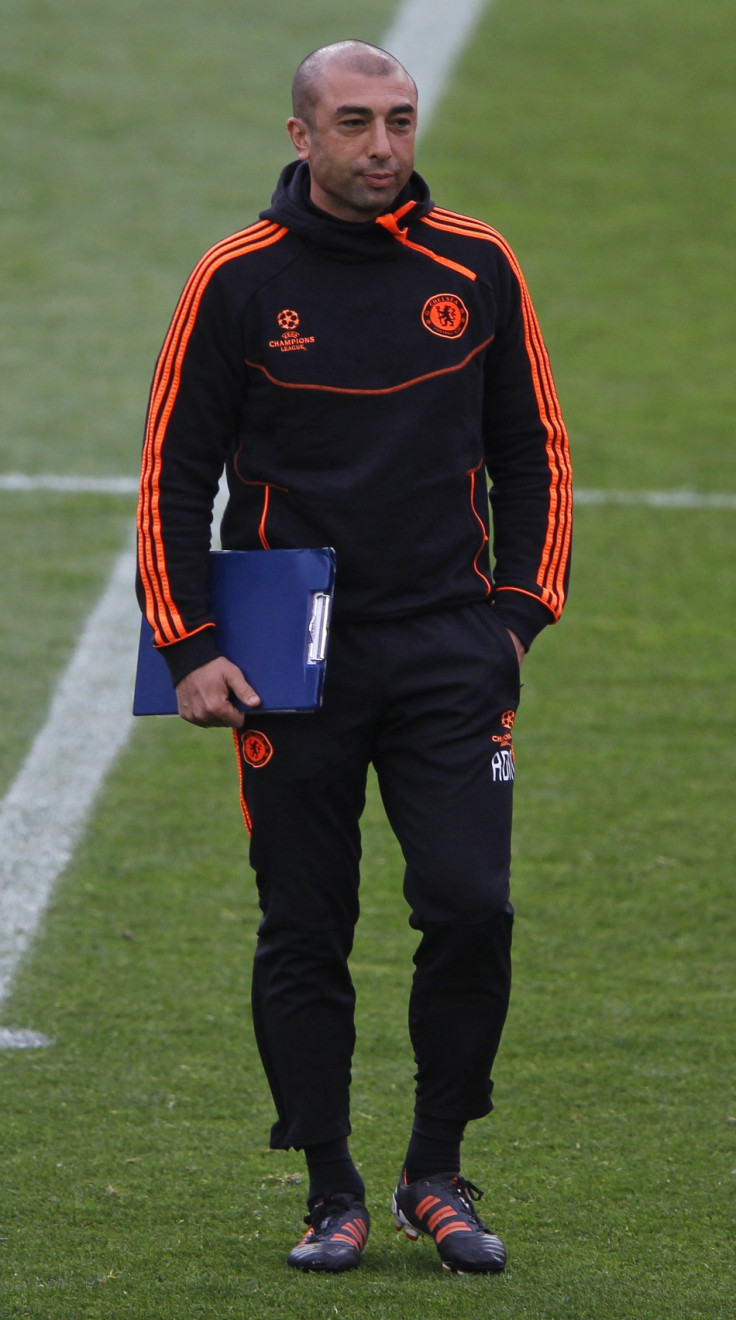 Chelsea interim manger Roberto Di Matteo has told his players, particularly senior squad members like Didier Drogba, Frank Lampard and Ashley Cole, to give their best when the Blues play Bayern Munich in the Champions League final on Saturday, adding it might be their last chance to win the prestigious trophy.
"Even for younger players, they do not know when they'll have the chance again to be in a final like this. For some of our older players, it might be more difficult to be in another final, or win it," the Sun quoted Di Matteo as saying. Further incentive for the squad will be the fact that if they lose at the Allianz Arena, they will not qualify for the Champions League next season.
Nevertheless, Di Matteo did also say that the team had done extremely well to reach the finals in the first place, despite former coach Andre Villas-Boas' sacking and being drawn against Spanish giants Barcelona in the semi finals of the competition.
"We've got a fantastic group with quality and experience and that has shown in games. That's shown by them carrying us to this final. To reach a Champions League final is very, very difficult," said Di Matteo, according to an ESPN report.
The only team between Chelsea and the Champions League trophy is Bayern Munich, who will prove to be a difficult opponent in their own home ground. If Chelsea do somehow win the title though, it will be Di Matteo's crowning moment.
"Personally I'd be absolutely delighted to win the Champions League trophy for this club - I'm a club person and feel very responsible - and very happy for the players. We've worked so hard to get to this point and we've tried so many times over the years to reach this goal," the Italian said, reported the Guardian.
Meanwhile, the Blues will go into this game looking for redemption, after losing the 2008 final, dramatically on penalties, to rivals Manchester United. Lampard, Drogba, Petr Cech, Cole, Michael Essien and John Terry were all a part of that team and this might be their last chance to make amends. The sentiment is one shared by Bayern Munich midfielder Bastian Schweinsteiger.
"Those players like Lampard, Drogba, Cole and [29-year-old Michael] Essien, who were in Moscow for the final [in 2008, when they lost to Manchester United], will have extra motivation. They will be the most dangerous, they know maybe it is their last chance to try and win it," Goal.com quoted Schweinsteiger as saying.
Finally, speaking on his own future at Stamford Bridge, Di Matteo said he was not concerned despite speculation of him being replaced this summer.
"I'm not thinking about myself. I'm very relaxed about my own future. I have a big drive and a big motivation to do something extraordinary for this club. That's all I want to do. Whatever comes afterwards ... well, there's always a reason why things happen," the Guardian quoted Di Matteo as saying.