Chelsea's 2-0 win at Stoke on Monday was a very big result for Jose Mourinho and a team increasingly cast in his own image.
Stoke are a more expansive side under the leadership of Mark Hughes but they have lost none of the bite instilled into them during the Tony Pulis years. They still like to mix it and with the towering Peter Crouch up front, the aerial route, or more to the point the 'up and under' approach beloved of rugby teams is never far away. Their defensive play is also reminiscent of rugby, judging by some of Stoke's challenges at corners.
The big question prior to kick off was, to paraphrase the Sky Sports pundits: could the likes of Costa, Hazard and Fabregas 'do it' on a cold, windy Monday night at Stoke? The answer was resoundingly in the affirmative.
It seemed appropriate that a matter of days before Christmas, Chelsea starred in their own version of Christmas movie staple True Grit. Like a crazed Rooster Cockburn decked out in blue, they rode toward the enemy with the reigns between their teeth, whilst firing shots at them and laughing in the face of any incoming violence, of which there was plenty.
Not for the first time in his managerial career, Mark Hughes' main tactic was to encourage his players to get stuck in to the Chelsea players and see what they were made of. With a side so full of creative and mercurial talent, there is undoubtedly a theory that Chelsea may have a soft underbelly, and in Costa's case a short fuse. This was a tactic used by Sunderland and Newcastle, with some success.
Willian certainly seemed ruffled by the constant physical challenges he was subjected to, and it was probably a good job that Chris Foy was not refereeing as he would probably have been carded for simulation again, although this time he would arguably have been simulating playing dead, and understandably so under this kind of a barrage.
If Chris Foy had been refereeing the match I suspect that he would have put a stop to what can only be described as Stoke's thuggery, as there could be no excuse for the tackle by Phil Bardsley on Eden Hazard (I hesitate to call it a tackle, as in reality it was a calculated attempt to take Hazard out of the game, and quite possibly the season).
How Bardsley stayed on the pitch after that is anyone's guess, and referee Neil Swarbrick should take a long hard look at himself for an inept and cowardly performance. If you let players get away with acts of violence like that then they will continue with alacrity and that is exactly what Stoke did throughout the match, with the chief offenders being Bardsley, Adams (another who should have received a red card), Pieters, Walters, Nzonzi and Shawcross.
Swarbrick bottled it pure and simple. Thankfully, Chelsea did not.
Intimidation didn't work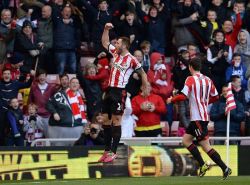 In the old days, a cry of "stand Chelsea, stand" would often be heard on the terraces and outside in the streets before and after the games. I swear I could hear "Captain, Leader, Legend" John Terry exhorting his troops to do just the same, and they did indeed stand, not taking a backward step for the whole 90 minutes.
In doing so they have laid down a real marker for the second half of the season, a "come and have a go if you think you're hard enough" statement, if you like. They will continue to play sublime football and attack teams but they will not be bullied or intimidated into submission by fair means or foul.
This Chelsea team, whilst exhibiting more flair and skill than Mourinho's 2004-2006 team, is just as powerful, and importantly just as united.
There were some superb individual performances by players such as Terry, Hazard, Matic, Fabregas, Costa and Mikel on the night, but what shone through was the collective team effort. The will to win, the desire to have each other's back, the sacrifices they were prepared to make for each other and for the result and, crucially, for their manager, bodes well if you are a Chelsea supporter.
The match, the result and the significance of it remind me very much of the victory away at Blackburn in 2005. Unsurprisingly a particularly physical, nay violent, Blackburn team managed by Mark Hughes threatened to derail Chelsea's (and Mourinho's) tilt at the title through physical intimidation.
The team stood up to their first real challenge on a foul night in the North, and won 1-0 in spite of suffering some nasty blows. They never looked back. The way the team celebrated the significance of that win in those circumstances spoke volumes for how important they knew it to be in terms of the title challenge and putting to rest any theories that they might be soft and not up for the fight. I sensed the same reaction after the match against Stoke on Monday.
This was the first match in what Mourinho likes to call the "quadruple" over the Christmas period with games against West Ham at home and Southampton and Tottenham away to come. All three of these matches will be very difficult, and may well have a bearing on the destination of the Premier League title this season. None of them however will be as psychologically important to the team as the victory against Stoke.
Chelsea's win against Stoke came on the 12<sup>th anniversary of the death of Chelsea supporter and The Clash frontman Joe Strummer. Strummer never took a step back and always stood up for what he believed, and I am sure he would have approved of Chelsea's dogged, fighting performance whilst not losing sight of their creative principles. In fact the words of Clash song Guns of Brixton could well have been applied to it, and perhaps could send a stark message to Chelsea's opponents for the second half of the season.
"You can crush us, you can bruise us, but you'll have to answer to, oh the guns of Chelsea".
David 'Stamford Chidge' Chidgey presents the award winning Chelsea FanCast TV show and podcast which can be seen every Monday at 19.00 on chelseafancast.com or You Tube or heard at mixlr.com/chelsea-fancast/ or downloaded from ITunes. Follow us on twitter @StamfordChidge and @ChelseaFanCast