Last Friday, whilst doing an interview with TalkSport, I was genuinely surprised to be asked about Roy Keane's bilious interview at the launch of his new book 'The Second Half'. I mean, what could the man who has spent the last few months looking like one of Mumford & Sons have to do with Chelsea?
Clearly the dearth of Premier League news due to the loathsome international break had thrown up the need to find anything newsworthy – no matter how farcical. Apparently 'Roy of the Moaners' was upset by Jose Mourinho's treatment of him after Villa's recent 3-0 defeat at Stamford Bridge. Mourinho, as is his wont, attempted to shake Keane's hand a minute or two before the end of the match before disappearing down the tunnel.
Now, Roy Keane, clearly a sensitive man, felt that Mourinho had acted arrogantly and broken some mythical code in the game by showing his opponent such disrespect. Clearly he should have waited until the final whistle, which to be fair is the convention. Perhaps it was only Roy Keane who had not realised that the game was for all intent and purpose over when Willian scored the third goal on 78 minutes. Roy is a born winner and must have believed that Villa would come back to win 4-3 in the last 2 minutes.
However, the point is not one of semantics but of hypocrisy. Was Mourinho's attempted early handshake a massive mark of disrespect to Lambert & Keane? In all honesty, if there is such a convention (and I believe there is) then yes, it does seem arrogant and disrespectful of Mourinho to not wait until the game had finished before offering his hand.
As always, I suspect that Mourinho was making a point. In the previous meetings between Chelsea and Villa, Lambert has acted petulantly. At Stamford Bridge in August last year, Lambert was infuriated by Ivanovic getting away with elbowing Benteke, and for Villa not getting a penalty for a John Terry handball in injury time. A penalty that, had it been given, would have secured Villa a point. As I recall it became very heated on the touchline between Lambert and Mourinho – putting the recent spat between Wenger and Mourinho somewhat in the shade.
At the end of the match Lambert refused to shake Mourinho's hand. I believe that he also refused to shake Mourinho's hand in the return fixture – equally acrimonious and one that scuppered Chelsea's title challenge with many inexplicable decisions by referee Chris Foy that day.
Making a point
So, it is conceivable that Mourinho was making the point to Lambert and Keane. He attempted to shake their hand and made it very obvious that he was doing so or more to the point, the master of mind games would more likely be offering his hand at a time when he knew only too well that it would be refused. His point being that yet again Lambert refuses to shake his hand.
What is more disrespectful? Making a somewhat Machiavellian point or pushing and shoving each other on the touchline and then petulantly refusing to shake hands at the end of the game? Roy seems to forget that the Corinthian spirit in football, where players and managers acted like the gentleman they were, disappeared years ago. Those were the days of course when the Corinthian team would deliberately miss a penalty as they considered it ungentlemanly to score it!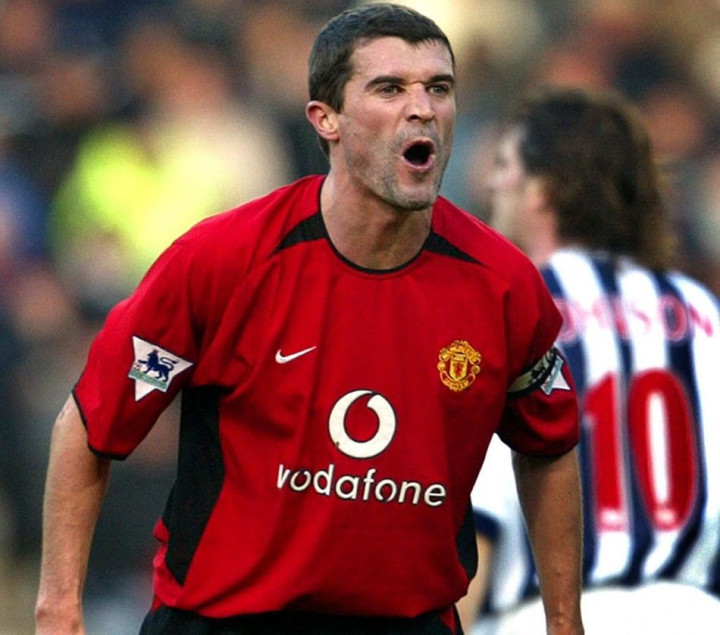 Today winning is everything and it's all about the edge you can get over the opposition – physical or psychological. This is something that Roy Keane knows only to well as he was a master exponent in his days as a player. In fact I would suspect that there are more than a few paragraphs in his book outlining these very points. Roy Keane, let us not forget, was the player who would lead the charge of Man Utd players trying to get a refereeing decision overturned; the player who deliberately inflicted a career ending injury on Alf Inge Haaland (there can be no greater disrespect on a football pitch than that, surely); the player who led a tunnel brawl with Patrick Viera and so on.
Roy Keane was also a great, great player – arguably one of the greatest midfield players the Premier League has seen. Physical, arrogant, disrespectful, dominant, aggressive, courageous and honest – my kind of player. If Roy was being as honest now as he was as a player then surely he would have knocked Mourinho out like he suggested in the interview would have happened in the Sunday League.
It seems such a shame that he now exudes such a faux sense of justice and respect in order to sell a few books. But then that is modern football, isn't it.
David 'Stamford Chidge' Chidgey presents the award winning Chelsea FanCast TV show and podcast which can be seen every Monday at 19.00 on chelseafancast.com or You Tube or heard at mixlr.com/chelsea-fancast/ or downloaded from ITunes. Follow us on twitter @StamfordChidge and @ChelseaFanCast