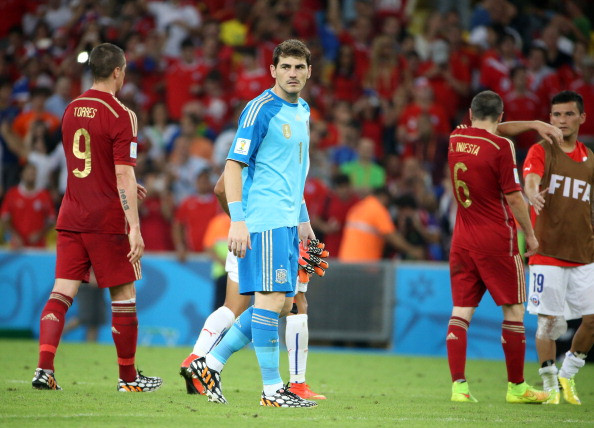 Chelsea supporters have enjoyed an interesting relationship with Spanish football over the last few seasons. Due mainly to our rivalry with Barcelona in the Champions' League, Chelsea have been cast as the villains of the piece – 'the enemies of football', whilst the football 'purists' hail and applaud the Barcelona 'Tiki Takka' style of football. The irony would not be lost on the neutrals that Chelsea has two current members of the Spanish national side in their ranks – Azpilicueta and Torres - two future members - Costa and Fabregas - and one former one – the much-missed playmaker Juan Mata.
Nevertheless, it was no surprise that most Chelsea supporters enjoyed the 'schadenfreude' of Spain being comprehensively embarrassed by the Netherlands in their opening World Cup match, and then a defeat to Chile which meant an early exit from the competition – even earlier than England's departure! Many Chelsea supporters also believed it sounded the death knell of Spain's lauded 'Tiki Takka' football – a style which is favoured by arch-rivals Arsenal, and a style which has at times been unsuccessfully attempted at Chelsea. It's not for us. We have grown up with the power play and pragmatism of Didier Drogba and Jose Mourinho, and of course, parking the bus.
But what will Spain's early exit from the World Cup mean for Chelsea and their Spanish players?
It would be tempting to think that a group of World Cup winning players starting at Chelsea next season would be a very positive thing. They would of course be full of confidence, as World Champions. But is this really the case? Personally I think it is an absolute God-send that Chelsea's Spanish contingent are coming home at least two weeks early.
Firstly, they will now get a hard earned rest. If you look at how exhausted the likes of Oscar clearly were in the latter half of last season, then this is not to be underestimated. Chelsea players play a lot of games in an average season, without considering the exertions of internationals and World Cups, so the chance of an additional two to three weeks' break from football will give them the chance to recuperate, both physically and possibly more important – mentally.
The break from football will certainly be valuable for Diego Costa – presumably our big summer signing. He has clearly not fully recovered from the hamstring injury he suffered at the end of the season, and this certainly affected his form in the Champions League final and the World Cup. If he had been more sensibly and unselfishly advised, it would probably have been best for Costa had he not played in either competition and given him the time to heal properly. Hopefully the unexpected break will give him a chance to do this.
Even more useful for Chelsea is that Costa and Fabregas – the new signings – will now be able to participate fully in Chelsea's pre-season. New to the club and the ways and means of Jose Mourinho, they will now have a chance to integrate properly in good time for the start of the new season. This could be crucial to Chelsea's performance in the coming campaign, as Costa and Fabregas are likely to be important cogs in the new-look Chelsea machine.
Football feeds massively on the old truism "what doesn't kill you, makes you stronger" and it is hoped that once the Spanish quartet get over their disappointment in Brazil, they will return to Chelsea with a renewed hunger and a desire to prove once again that they are great players, with an even greater determination and appetite to win trophies at Chelsea.
Although you need a certain arrogance to be one of the world's best, sometimes footballers need a reality check – a re-alignment and a return to having their feet on the ground. There is no doubt that Chelsea's Spanish players have had such a jolt. This could also play into Chelsea's hands for next season and I would love to see them play with a gritty reality as a result. Learning to lose is as important in life as enjoying the winning, and I have no doubts that these players will have learnt a valuable life lesson that will stand them in good stead for both club and country.
David 'Stamford Chidge' Chidgey presents the award winning Chelsea FanCast TV show and podcast which can be seen every Monday at 19.00 on chelseafancast.com or You Tube or heard at mixlr.com/chelsea-fancast/ or downloaded from ITunes. Follow us on twitter @StamfordChidge and @ChelseaFanCast