Chelsea captain John Terry has been charged by the Football Association after an extensive review into the incident that took place at Loftus Road on October 23 2011.
The England defender was accused of using a racist term against QPR defender Anton Ferdinand, but was cleared of any criminal wrongdoings earlier this month in a high profile court case that lasted five days.
Terry had believed that he would be able to solely concentrate on his football, but the FA have today released a statement saying that they are charging the player for the comments he made during the game to Ferdinand.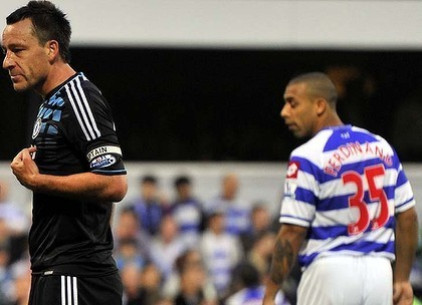 "After seeking advice from an external Independent QC, and having considered the evidence and Magistrates' Court decision in the John Terry case, The FA has today charged the Chelsea player following an alleged incident that occurred during the Queens Park Rangers versus Chelsea fixture at Loftus Road on 23 October 2011.
"It is alleged that Terry used abusive and/or insulting words and/or behaviour towards Queens Park Rangers' Anton Ferdinand, contrary to FA rules," read a statement on the FA website.
"It is further alleged that this included a reference to the ethnic origin and/or colour and/or race of Anton Ferdinand.
"This charge is the result of The FA's long-standing enquiries into this matter, which were placed on hold pending the outcome of the criminal trial, and relates to rules governing football only."
There is no indication of the punishment that Terry will receive and the defender has been given until August 3 to respond to the charge.
The FA also stated that they would not give any further comment on the matter until Terry had responded.