Interim Chelsea manager Rafael Benitez believes that the success he had at Liverpool is the reason why the Stamford Bridge faithful are still voicing their discontent nearly four months after he accepted the job.
Chelsea fans have continued to vocalise their support for former manager Roberto Di Matteo and there still appears a negative atmosphere around the ground.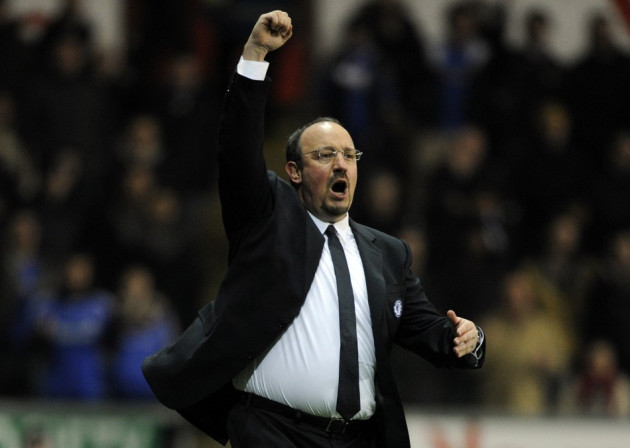 However, Benitez has made it clear that he is "happy" to remain at the club and believes that his success with Liverpool is the only reason he has still not been accepted by the fans.
Speaking to Radio Gaceta de los Deportes, Benitez said: "The biggest problem is that I was manager of Liverpool, and I'm paying for the success I had at Anfield.
"Nevertheless, I just continue working hard and focusing on being successful with Chelsea. All we can do is show complete dedication. When we win, there's no-one in the world happier than me."
Benitez always knew that it would be difficult to win over the Chelsea supporters after he had previously criticised them when he was in charge of Liverpool. His record over the west London club in cup competitions also made him an unpopular figure.
Chelsea's form has been somewhat erratic under Benitez but the Spaniard believes that there were major problems at the club when he first arrived.
"When we arrived, the team was practically out of the Champions League, was slipping down the Premier League and had been given a hiding in the European Super Cup [Chelsea were beaten 4-1 by Atlético Madrid]. It was a team in transition and the results weren't good enough.
"The biggest difficulty has been having very little time to work with the players," said Benítez. "We have played the most games in Europe of any team this season. You want to work on tactical aspects but you have to rotate and rest players."
Despite coming under fire while in charge of Chelsea, Benitez has still been linked with possibly succeeding Jose Mourinho at Real Madrid and has admitted that he still harbours ambitions of one day managing Spain.
"I don't rule out becoming the Spain coach, if and when Vicente decides to leave," admitted Benitez. "It's something I would envision for further down the line, although to achieve that I have to continue in elite football and keep on doing well."