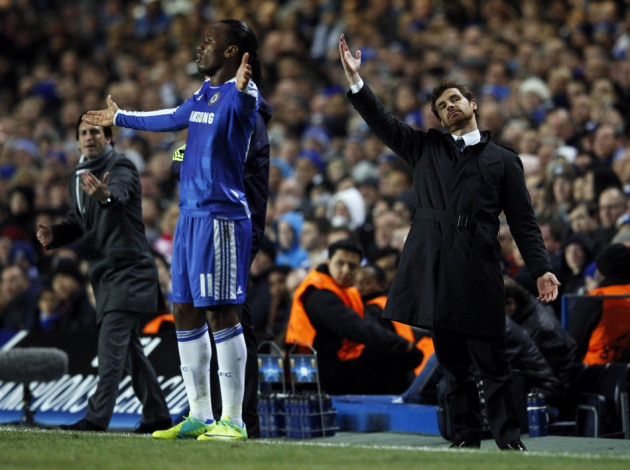 Andre Villas-Boas lashed out at the media's "persecution of Chelsea" as his side confirmed their place in the Champions League knockout stage on Tuesday night.
The Portuguese manager spoke of the squad's "strength of character" after a 3-0 win over Valencia saw the Blues leapfrog Bayer Leverkusen to go through as Group E winners.
Villas-Boas defended his side's recent indifferent run of form but his comments hint at the strain the young manager has been under in recent weeks.
"My players deserve respect they don't get," said Villas-Boas. "We've been chased by different kinds of people and pressures. Here we have given everyone a slap in the face.
"It is unfortunate for you guys [the media] because you have to report on a brilliant win for Chelsea and we qualify first in the group. It is difficult for everybody and today this is difficult for you."
The Chelsea manager singled out Sky Sports pundit Gary Neville for comments he made in the build-up to the match.
"We see a [former] Manchester United defender [Neville] say in the preparations for the game things like, 'I don't want to be one of the Chelsea players today, I couldn't play this game and it is a difficult game for them.
"This is out of this world for me, I don't believe this. This is a continuous persecution; it is aggression towards one club."
He indicated that Premier League leaders Manchester City had not received the same criticism as his Chelsea side, despite being in a more precarious Champions League position than the Blues.
"It [the media reaction] has been over the top. I hope they [Manchester City] qualify for the Champions League knockout stage but the attitude to them is; if they qualify they qualify, if they don't they don't - we don't get that margin," he said.
"Finishing top of the group is fantastic. It is against all odds. Nobody would have put a bet on us finishing top but it has happened and it is very satisfying.
"The team was excellent. It was a win of human values, team spirit, solidarity, responsibility, strength of character, resilience, ability to take criticism."