Chelsea midfielder Marko Marin has encouraged Andre Schurrle to join him at Stamford Bridge, but warns him he will have to "adjust to a completely different world."
But rather than concerns over adjusting to a completely different league and a team chasing glory on all fronts, 23-year-old Marin has told his compatriot to be prepared to get up and sing in front of the entire Chelsea dressing room.
The Blues have reportedly been in talks with Bayer Leverkusen regarding the transfer of the highly-rated 22-year-old throughout the week, and Marin, who himself only arrived from Werder Bremen last year, has told his international teammate what he should expect should the move come to fruition.
"Should he indeed arrive, he will have to prepare himself for a different world," Martin said, speaking to Sport Bild.
In what has become a tradition for new arrivals at Stamford Bridge, Marin unleashed a rendition of "Cotton Eye Joe" on his new teammates, something that helped him immediately settle into the "family atmosphere" at the club.
"The audience went wild and after my performance they all shouted in German, 'encore,'" he continued.
"There is a family atmosphere at Chelsea, where everyone knows everyone. Even the chef and the cleaner. The club is very special."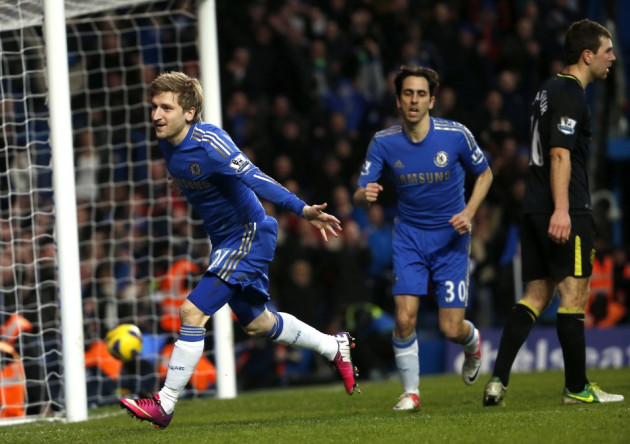 Should Schurrle complete a move to Stamford Bridge, he will be hoping to have more of an immediate impact than his countryman. Marin has only started seven games for the Blues this season, with the majority of those coming in the club's Capital One Cup and Europa League exploits.
Chelsea appear to be edging closer to securing a deal for Germany international Schurrle, having appeased Leverkusen with a reported offer of £20 million and the highly rated Belgian Kevin De Bruyne in a player plus cash deal.
While on a season loan with Werder Bremen, De Bruyne has suitably impressed a host of Bundesliga sides, including Champions League semi-finalists Borussia Dortmund. But Leverkusen could be poised to snare a deal for the 21-year-old with Chelsea desperate to bring Schurrle to south west London.
"I am waiting for information from either Leverkusen or Chelsea, but there could be some positive news by the end of this weekend," Ingo Haspel, Schurrle's agent, is quoted as saying in the Daily Mail.
"It is an indication of how much Chelsea want the player that they are continuing to negotiate."