There has been so much attention focussed, rightfully, on the two Manchester clubs that Chelsea, Tottenham, Arsenal and Newcastle are left, more or less, to settle their four-way struggle for the final two Champions League positions for next season with very little talk about them.
In truth, as exciting and potentially historic as the title race has been and still is, the fact that with barely a handful of games to go there are still four teams with a chance to finish third and fourth is quite an amazing achievement for the league. There are, of course, different ways to look at this standing. We could, for example, dismiss the competition as arising from an unacceptable level of mediocrity and point to Manchester United and Manchester City's elimination, in quick succession, from the Champions League and the Europa League... but then the fact that unfancied Chelsea pulled of the most stunning Champions League upset since, perhaps, Didier Deschamps' unheralded Monaco took Real Madrid out of the tournament in 2004, must be answered. In either case, the fact remains that any two of Chelsea, Tottenham, Newcastle and Arsenal could wind up outside the top four and miss out on Europe's elite tournament.
The Build-Up:
Against the context of that possibility, Wednesday's game between the Blues and the Magpies is, potentially, a season decider for both sides. With only three games, including this one, left to play, a single point separates the two; Chelsea have arguably the tougher run-in, with a trip to Anfield still to come and a visit from a Blackburn team frantically fighting relegation. The Blues also have the little matter of an FA Cup Final and Champions League Final to consider. Newcastle, on the other hand, will face Chelsea and Manchester City in quick succession and have a week-long break before their final game against Everton.
Enough has been said about the Blues' remarkable turnaround in results and performances since interim manager Roberto Di Matteo was appointed, so we'll let that slide. Their last league game was an emphatic 6-1 win over QPR at home, where they have been unbeaten since that shocking 1-3 loss to Villa. The most important piece of news for Blues fans will certainly be the possibility of an in-form Fernando Torres. The £50 million signing has had to face considerable criticism following a poor season. However, his first hat-trick in Chelsea colours, against QPR, plus the deciding goal in the tie against Barcelona and generally improved positional play in recent games could well signal the re-emergence of a player who, when with Liverpool, was acclaimed as one of the finest in the world. Di Matteo has done wonders with Torres since he took over and if he can keep his morale and confidence up for just a few games more, the Spanish striker could prove to be the difference between Chelsea and the three other teams.
Meanwhile, over in the Magpies' camp, there is a general sense of contentment and even delight at how the season has turned out... and well there should be. This has been, barring very few exceptions (if any), one of the finest seasons in the club's history. After the pain of relegation in the 2008/09 season, Newcastle are back where their fans firmly believe they should be - at the sharp end of the table.
Crucial to their success this season has been manager Alan Pardew's surprisingly shrewd signings, a set of decisions that has seen the likes of Ivorian international Cheick Tiote, Senegalese strikers Demba Ba and Papiss Cisse and French internationals Yohan Cabaye and Hatem Ben Arfa come to Tyneside, while the then controversial decision to sell local lad Andy Carroll to Liverpool for £35 million turned out to be the most astute and profitable one in a long time.
However, lest we get carried away, Newcastle will come into the game against Chelsea on the back of a surprising 0-4 drubbing at the hands of Roberto Martinez' Wigan Athletic. The defeat, no matter what Pardew or the players may say, will certainly prey on their minds at Stamford Bridge, as will the fact their opponents on the day beat Wigan 2-1 when they came calling. Apart from the blip against Wigan though, Pardew's men have seen a hugely impressive run of form - they have won six of their last seven games and, critically, only conceded five times in that period - four were against Wigan. The ability to keep a clean sheet could prove the difference between retaining that one point lead over Chelsea and letting it slip.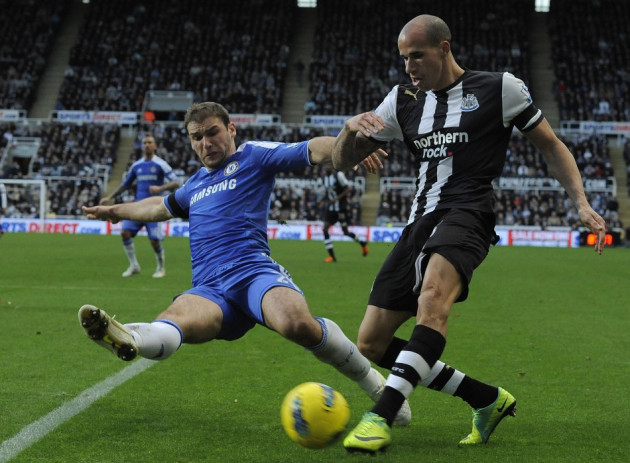 Team News:
Torres is almost certainly set to start, even if Di Matteo considers the double header against Liverpool to come. The Spaniard has finally started to score goals and to not give him consistent match time could result in a relapse of the worst possible sort. Meanwhile, the manager will continue to be without centre-backs David Luiz and Gary Cahill, both of whom have hamstring problems. The good news though is that Serbian international Branislav Ivanovic returns from suspension and should join captain John Terry in the centre of defence, with Portuguese right-back Jose Bosingwa starting.
As far as Pardew is concerned, his biggest fear will be the possible absence of midfielders Danny Simpson and Cabaye, both of whom suffered injuries against Wigan. That could be offset by the return of French youngster Gabriel Obertan but Sylvain Marveaux (groin), Steven Taylor (Achilles) and Peter Lovenkrands (thigh) all remain on the long-term absentee list.
Facts:
The 6-1 win over QPR was Chelsea's highest-scoring game this season.
Torres has now scored four goals in his last two games for the Blues.
Newcastle's Demba Ba, who was so prolific in the first half of the season, has failed to score in 11 games. However, his compatriot, Papiss Cisse has picked up the slack, scoring 11 times in that period.
Yohan Cabaye has been critical to Newcastle's offensive creativity, having made more than 40 goal-scoring opportunities for his team mates this season.
Man to Watch:
Chelsea - Fernando Torres. The powerful Spanish forward has worked very hard this season, something that has been consistently pointed out as the one redeeming factor in his performances for the club. He has taken time to come out of his slump and was, we must admit, wonderfully shielded and protected by his team mates and managers during that period. It seems the former Atletico Madrid man is finally ready to repay that faith and, on his day, there is not a better striker in the Premier League.
Newcastle United - Papiss Cisse. The Senegalese forward has been in sublime form since he signed in January and has already repaid a significant portion of his reported £10 million transfer fee, with 11 goals in as many games. Pardew will be hoping that Cisse continues doing just that for the rest of the season, particularly with compatriot Demba Ba going through a bit of a dry spell.
Where to Watch Live:
The match will be available live on vslive.tv in the UK and FOXSoccer.tv in the US.
Prediction:
Chelsea at Stamford Bridge are always a tough proposition. In addition, given the considerable euphoria and optimism in the Blues' camp at present and, as Pardew earlier said in a report by The Sun, this is probably not the best time to play them. However, there are weaknesses the Magpies can exploit. For one thing, the physical strength and presence of their two forwards - Ba and Cisse - could combine to create problems for Terry and Ivanovic, potentially allowing others like Obertain, Gutierrez and Ben Arfa time and space to operate.
The hosts, meanwhile, have been warned by Di Matteo that they need to focus on this game before even thinking about the FA Cup final on Saturday. That was the same message Kenny Dalglish gave Liverpool on Tuesday - the Reds paid him no heed and slumped to a disappointing 0-1 home defeat to Fulham. While that is a real possibility for Chelsea as well, the momentum they have at the moment, something Liverpool did not, should serve them well.
Chelsea 2 - Newcastle 0.