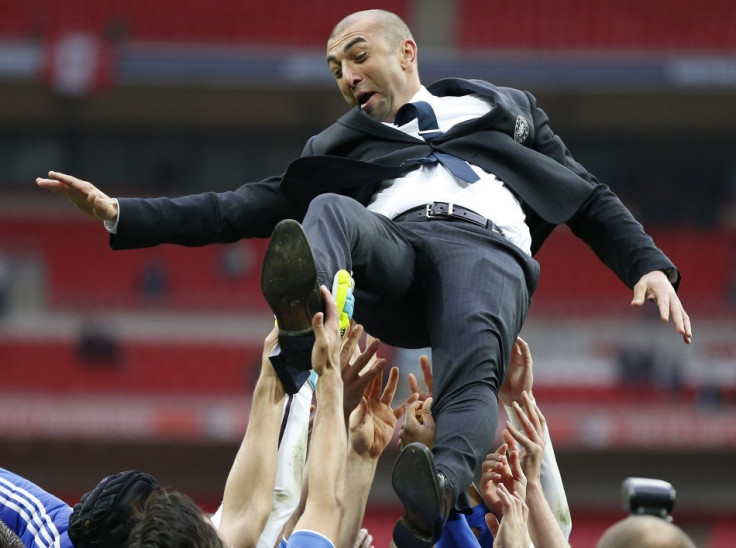 Despite speculation of Chelsea owner Roman Abramovich looking to persuade Real Madrid boss Jose Mourinho or Barcelona boss Pep Guardiola to join the Blues this summer, Roberto Di Matteo (the club's current interim manager) says that he is not affected by the rumours regarding his future at Stamford Bridge.
The 41-year-old Italian, who has been quite successful since the sacking of Andre Villas-Boas, says that at the moment he is only focused on the Blues' Champions League final clash against German giants Bayern Munich.
Still, in spite of Di Matteo's successful campaign including Chelsea winning the FA Cup this season, the Italian's future remains uncertain.
"I'm not thinking about that. It's not about me, it's about Chelsea. The players have a fantastic opportunity to achieve something very special.We have pushed the players and they've responded fantastically well," Espnstar quoted Di Matteo as saying.
"I feel part of this club. I focus on the team and the players, and what we're looking forward to in the next eight days," Goal.com quoted the former Chelsea midfielder as saying.
Di Matteo currently is in the same situation as Israeli boss Avram Grant, who was also appointed as the interim manager following Jose Mourinho's sacking in 2007. The 57-year-old former West Ham boss has also led the Blues to the finals of the Champions League that season. He was soon fired after Chelsea lost the finals to Manchester United on penalties.
This year Di Matteo faces an even greater challenge because if Chelsea lose the Champions League final to Bayern Munich then the Blues' will also miss on the European competition next season owing to their poor performance in the Premier League this season.
Still the Italian boss feels that Chelsea have done a good job to reach the finals of the Champions League.
"To be able to play in the Champions League final, for these players, is a magnificent opportunity for them and the club. The effort and commitment from the players has been fantastic. I couldn't have asked for more," he said, according to Goal.com.
Also, Di Matteo claims that Chelsea will always mean a lot to him even if he gets replaced by someone else
"I'll always have a good relationship with the fans. I'm an ex-player here. I've got a legacy and no-one would take that away," he added.