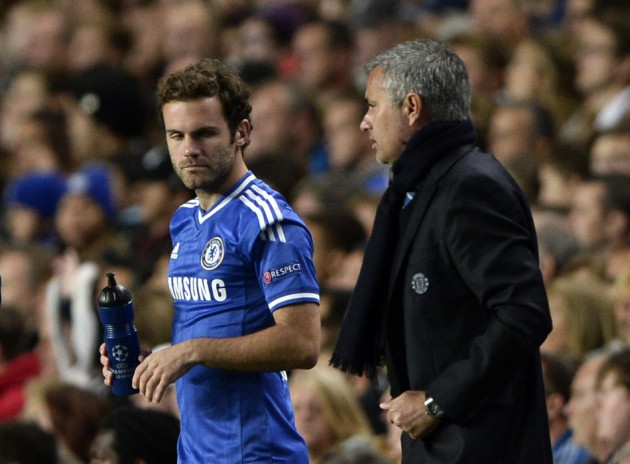 Chelsea manager Jose Mourinho has confirmed Oscar will be his No10 this season and also warned Juan Mata he must prove his worth on the flanks if he is to break into the Blues' starting line-up.
Mata, who was voted Chelsea's best player in the last two seasons by fans, has made just three appearances (two starts) in the west London outfit's six games so far this season. The club has made its worst start to a Premier League campaign in a decade and also lost a Champions League match at Stamford Bridge for the first time in nearly 10 years, against Swiss side Basel.
However, Mourinho insists he will continue to use Brazilian Oscar as the Blues' central playmaker, a position in which Mata enjoyed great success over the last two years. The Portuguese tactician also challenged the Spaniard to improve his defensive skills, such as tracking back and marking opponents, so that he can try to find a place on the wings.
"I want to build with Oscar as my number 10. I want the other two players, from the side (wings), to adapt to that reality and to learn how to do things that they were not ready to do before. It's a problem I enjoy. The reality is we want to play a certain style. We all agree. We had one meeting - not five or 10 or 20 - but one, and we were all convinced this was the way we want to do it," Mourinho pointed out.
"One thing is to play with Ramires and Oscar in the side, them closing (down) each side, and Mata as a number 10 behind a striker, to have clever assists and to have clever passes; fantastic actions because he has great talent. Another thing to adapt to the way we want to play. In this moment, Oscar is my number 10 and, if somebody tells me that Oscar is not Chelsea's best player since the beginning of the season, I'd have to disagree," the manager added.
Mourinho also said this new project with the Blues is the toughest he has ever faced in his managerial career.
"I've never worked so hard as I'm doing now. Never. I had different situations at the other clubs, but here I work hard every day. I want results. I'm not trying to protect myself behind the style and the project, and say that I don't care about the results. I'm not trying to hide," the 50-year-old stressed.
Chelsea, who are currently on a three-match losing streak, host cross-town rivals Fulham at Stamford Bridge on Saturday afternoon.