Chelsea have taken steps in their search to replace Rafa Benitez by enquiring over the availability of Malaga boss Manuel Pellegrini.
Benitez, who was appointed as interim boss in November, confirmed his departure from Stamford Bridge at the end of the season on Wednesday following the 2-0 FA Cup fifth round win over Middlesbrough.
With long-term reported target Pep Guardiola joining Bayern Munich in the summer and former boss Jose Mourinho expected to join Paris Saint Germain should he leave Real Madrid, Russian owner Roman Abramovich is running out viable options for the post.
But according to Pellegrini's agent Jesus Martinez, Chelsea have sounded out the Malaga boss over potentially taking over this summer.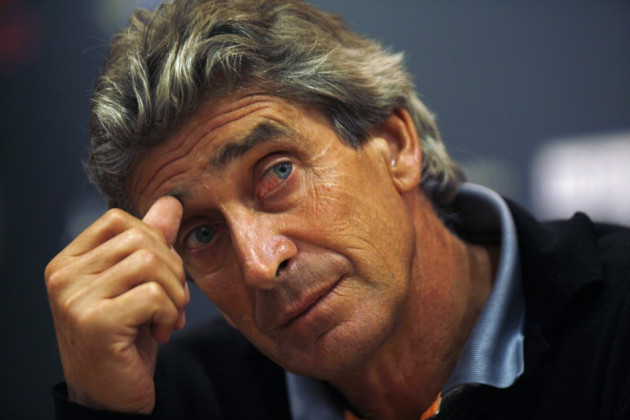 "Chelsea and other clubs have asked, but only through intermediaries, nothing official," Martinez told Chilean newspaper El Mercurio.
"Manuel would love to coach in the English Premier League, as he would in Germany, Italy and other important leagues.
"Manuel has a contract with Malaga. I think that, in April and May, we will be clear about what will happen with his future.
"Our first intention is to respect our commitment to Malaga, but it also depends on what the conditions are. We had a formal offer from Roma, but we rejected it. It was less than 15 days ago, but we discarded it outright because we are in the middle of the season."
Benitez replaced Roberto di Matteo, who won the Champions League and the FA Cup in his eight months in charge, last year to become the nineth permanent Chelsea manager during Roman Abramovich's ownership of The Blues.
Malaga are currently fourth in La Liga but will be excluded from European competition next season should they qualify after failing to meet financial obligations.
Despite being crippled by debt, which led to the summer sales of Santi Cazorla and Salomon Rondon, Malaga have performed admirably both domestically and on the continent where they face FC Porto in the Champions League last 16 second leg hoping to overturn a 1-0 first leg deficit.
Earlier this week Pellegrini dismissed rumours surrounding his future, insisting he was fully focused on Malaga's La Liga and Champions League campaigns.
"I do not care about the rumours," he said. "My mind is firmly in Malaga and I am very happy here," Pellegrini said.
"I have no arrangement with anyone and I do not want to worry about anything else other than Malaga."