Michael Essien may be forced to consider his future at Chelsea after it was revealed that Turkish side Fenerbahce were interested in signing the midfielder.
ESPN has reported that Fenerbahce are awaiting the outcome of their Champions league qualifier against Spartak Moscow on Wednesday before they make an official offer.
Spartak have a 2-1 lead from the first leg in Moscow, but Fenerbahce feel that if they can overturn this deficit then the added draw of Champions League football may help them convince Essien to make the move.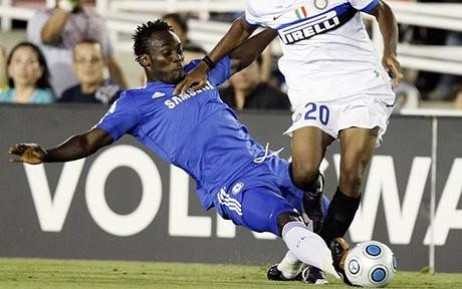 The financial boost would also help as it would certainly take a significant offer for Chelsea to consider parting with the dynamic midfielder.
Essien stated earlier in the summer that he wanted to remain at Chelsea, despite seeing manager Roberto di Matteo further strengthen his options in midfield.
"My intention is to stay and I'm looking forward to a new season. I still have two more years here. I'm still here, I'm still around," Essien was quoted as saying on ESPN.
"Yes, the team is changing and there have been players going, new players coming in but that's how professional football is. You just have to deal with the situation and go out and perform for the team.
"I will play anywhere I am asked to play and it's always been that way with me. I work hard for the team, for Chelsea. I've played right-back and other positions and it's no problem."
The 29-year-old has struggled with some serious injuries in recent seasons and has found it difficult to force his way into the plans of Di Matteo.
He has not played a single minute this season as Chelsea have preferred to use the likes of Raul Meireles, Frank Lampard and Jon Obi Mikel.
Much will depend on whether Chelsea would be prepared to allow the midfielder to leave, with the transfer window closing on Friday, and if Essien would want to move to the Turkish side.