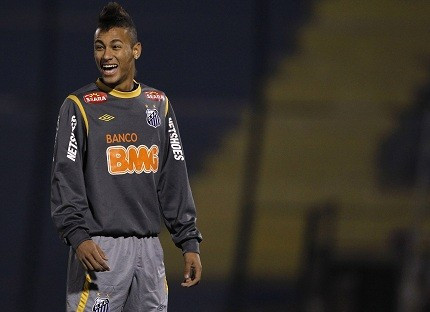 Chelsea could face a fight with Real Madrid over Brazilian forward Neymar unless they pay almost £40m to Santos, according to a source closely involved with the negotiations.
After reports in Spain on Tuesday stated that a deal to take Neymar to Madrid was near completion, the insider said, "If Chelsea will not pay €45m he will go to Real."
Quotes from the Brazilian's agent, Ernesto Bronzetti, indicated that the striker had already agreed a deal with the Madrid club. But Bronzetti later stated that he had been misinterpreted by the Italian media -- which led to several media outlets claiming it was a done deal.
Neymar is one of Chelsea's main transfer targets, with Roman Abramovich a particular fan of the 19 year-old who has scored three goals in five Brazil appearances. But after the club's spending topped £74m in January there is a sense that the Russian might not be prepared to pay nearly £40m for a player who is an unproven talent in European football.
On Tuesday the club's chief executive Ron Gourlay said that "two or three key players that we'd like to bring into the team" had been identified.
These are believed to include Neymar, the Udinese winger Alexis Sanchez and Tottenham Hotspur's Luka Modric but the club could conceivably lose out on all three.
Sanchez is believed to favour a move to either Barcelona or Manchester United with Manchester City prepared to trump any formal bids for the player; while Tottenham are prepared to hold out for a £50m bid for the Croatian midfielder.
The Stamford Bridge outfit are still without a manager after Carlo Ancelotti was sacked last month. Talks are on-going with Guus Hiddink, the Turkey coach, and despite consistent denials from the Dutchman he is expected to be named as Ancelotti's successor in the next few weeks.
Chelsea's chief executive, Ron Gourlay, has confirmed that a new manager will be in place within a fortnight.
"As far as the manager is concerned, the process is going well but now is not the time for me to comment on who the next manager is going to be.
"We will announce things in the usual way but hopefully in the next week or two, we'll be in a position to announce who our new coach will be," he said.