Cheryl Fernandez-Versini is said to be worried that her relationship with new love Liam Payne may fall apart under the intense pressure of public scrutiny. The 32-year-old faced a backlash after the pair went public with their romance in February.
At 22, the One Direction singer is ten years her junior and the age gap has had irate Directioners accusing her of being a 'cradle-snatcher.'
The couple began dating in secret in December after Cheryl's 18-month marriage to French businessman Jean-Bernard broke down. As she dealt with her marital breakdown the Crazy, Stupid Love singer found support in her friends and apparently in Liam and the pair cemented their relationship with a secret holiday.
An insider told Heat magazine: "It was so perfect between them before everyone found out. There was no pressure before – no judgements. They were able to go on their holiday to the Maldives together without anyone knowing or commenting. Now, their every move is under scrutiny and Cheryl's scared that the pressure could prove too much and end up splitting them up."
While friends of the X Factor judge including Simon Cowell and Perrie Edwards have given their blessing to the new couple, others have suggested the love affair is a publicity stunt and is doomed to fail.
Cheryl's brother Garry is said to be unconvinced about whether the pair will last the course, as he fears his sister is leaping head first into a new relationship so soon after ending her marriage. Her mother however, is said to be happier about her daughter's choice of boyfriend amid reports that she was never fond of Jean-Bernard.
Liam's ex Sophia Smith also waded into the discussion, labelling the new romance "so weird".
Responding to the critcism, the former Girls Aloud singer posted a poignant message to her 2.3million followers,expressing her dismay at the tendency of some women to be rivals instead of empowering one another. Speaking from the heart she writes: "Girls compete with each other, women empower one another. It can be so hard at times being a girl, for sooo many reasons! But we don't have to make it harder for each other.. Why do we still feel the need to do that ??"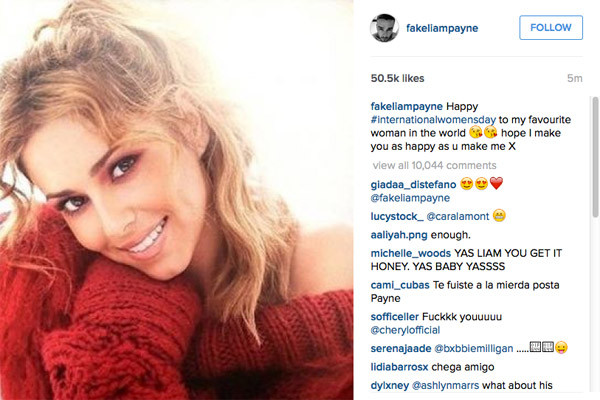 It seems the relationship will be tested yet, as the pair who are currently in LA together are planning to make a trip to the Midlands to meet Liam's family who live in Wolverhampton.
"Cheryl wants to meet Liam's mum, Karen, and his big sisters, Nicola and Ruth, but she's got to be nervous of how they'll view the age gap, not to mention her divorces," a friend told the magazine. "She finds the idea scary, but she wants to show people she's serious about Liam."
The twice married star is said to be fearful of the potential humiliation that would come with another failed romance. And while Cheryl appears to have found love again, according to Heat the odds are against them, with bookies offering 8-1 odds that 'Chiam' will be over before the year is out.