Cheryl Fernandez-Versini has been looking a lot happier after her recent marital woes, and it seems the reason is Liam Payne. It's thought the pair have been enjoying a secret three-month relationship, which may have been blooming during the X Factor final in December 2015.
Footage from the show, in which One Direction performed together for the last time before they went on a hiatus, shows Cheryl reach out to Liam who plants a lingering kiss on her cheek. The pair were rumoured to be dating after the One Direction star revealed a new inking on his hand of three roses, that looked remarkably similar to the tattoos adorning Cheryl's lower back.
Fueling speculation on Valentine's Day, the 22-year-old posted a photo of a rose with the message "Happy Valentines Baby!" "Is that for Cheryl?" remarked an astute fan. The singers have now confirmed they are indeed a couple, after Liam posted a selfie of the two of them together on Instagram on Sunday, changing his profile bio to read simply "Happy."
While the That's What Makes You Beautiful singer appears to be shirtless, a make-up free Cheryl, poses with her signature V-sign across her face. The photo comes a day after a fan spotted the pair shopping in Tesco together. According to The Mirror, the new couple were seen browsing the aisles at midnight in the Guildford branch of the supermarket chain.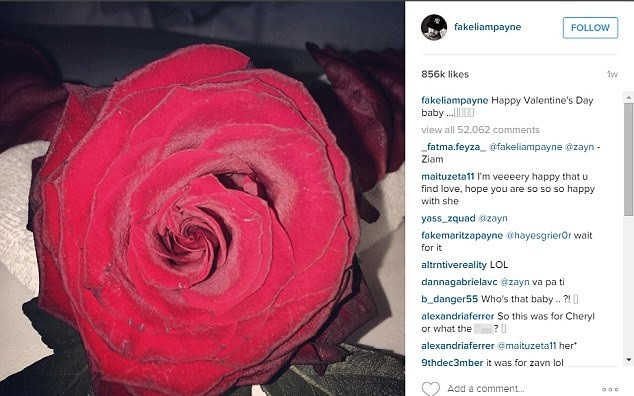 New details about their relationship havesince emerged with reports that they made their romance official during a holiday to the Maldives, earlier this month. According to The Mirror, the pair escaped to a remote island for a private break in February just as reports emerged that Cheryl was filing for divorce from her husband of 18 months Jean-Bernard. Three weeks later she posted a smiley snap of herself on holiday with the telling caption: "Take me back to last Sunday. What a day!!!"
With an age gap of ten years the pair first met when Liam auditioned for the X Factor aged just 14. Returning in 2010 age 16, he charmed Cheryl off her feet and progressed to judges houses. It was the beginning of his career as one fifth of One Direction, who went onto become a global pop phenomenon.
The Mail On Sunday claims it was in fact Simon Cowell who set the pair up, after it was clear Cheryl's marriage to Jean-Bernard Fernandez-Versini was on the rocks. A friend of the music mogul is reporting as saying: "Simon was Cheryl's confidant when he saw the relationship going to pot. It was his suggestion, and with his encouragement, that she got together with Liam, who's a really sweet boy."
"'Simon doesn't think the age difference is an issue. He jokes that Cheryl cannot be left to choose her own men as she always goes wrong."
And while the new couple are clearly loved up, the news has not gone down so well with the Directioners. A torrent of venomous abuse was directed largely at Cheryl as news of their romance was trending on social media. "F*** off Cheryl. You can have any man in the world. Step the f*** away from my Liam or we going to have problems," wrote one angry Twitter user.
"When "Liam and Cheryl" are trending but they didn't die in a fire :( " said another. Meanwhile one troll branded the singer a 'repulsive whore'.
There were however those who gave their blessings to the relationship. "Honestly if @Real_Liam_Payne is happy then we should be happy for him. I don't see what's the problem with him dating Cheryl," said a supportive fan.
According to the Mirror an insider said that despite the age difference, the pair have a lot in common. "With Liam it's just completely relaxed. They've come from the same place and totally understand each other and the pressures each of them has, so there is no need to put on a front.
"Of course they have known each other for a long time, and always got on very well, but it was only in December that they began talking of getting together. It's early days and who knows exactly what will happen, but her family are happy for her and she's enjoying herself."
A friend of the pair told the newspaper: "Cheryl and Liam are in a relationship. It was unexpected but they've both made each other incredibly happy. They've always got on well and share many of the same interests, but there was never anything romantic between them in the past.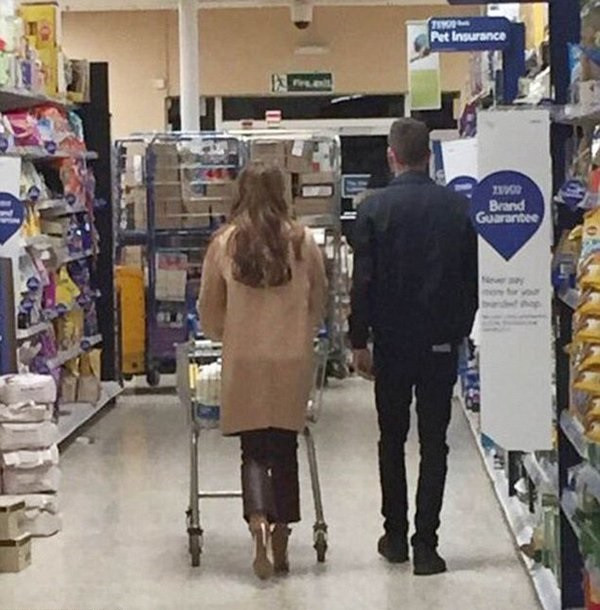 "Their relationship developed very quickly in December after the X Factor final where One Direction gave their final performance before starting their hiatus. Liam is madly in love. This is the real deal."
While even friends of the stars were left stunned by the news of their romance, the pair are said to be "madly in love." The news will have come as blow to Cheryl's estranged husband Jean-Bernard Fernandez Versini, who it was earlier reported had been pulling out all the stops in a bid to win back his wife.
The pair have been embroiled in a very public social media spat since December 2015, seemingly confirming their marriage is over.
While Liam's broad smile says it all, Cheryl's love life has certainly taken her in a whole new and unexpected Direction.