A baby has been killed in Chicago in a gang-related drive-by shooting that targeted her father.
Jonylah Watkins, who was six months old, was shot in the South Side neighbourhood of Woodlawn.
Her family said she was shot five times in the thigh, shoulder, lung, liver and bowels. She died at the Comer Children's Hospital, police confirmed.
Her father ,Jonathan Watkins, remains in a stable but critical condition at Northwestern Memorial Hospital.
He was shot five times and sustained wounds to his sides, buttocks and face.
Police say he has a long history of criminal activity and is a known gang member. They were searching for the assailants.
Witnesses said the attacker approached the pair early in the afternoon as Watkins changed his daughter's nappy on the front seat of his minivan.
Garry McCarthy, police superintendent, said he was unsure whether Watkins would cooperate in the investigation. "No child, certainly not an infant, should be a victim of gang violence. He was obviously targeted," he said.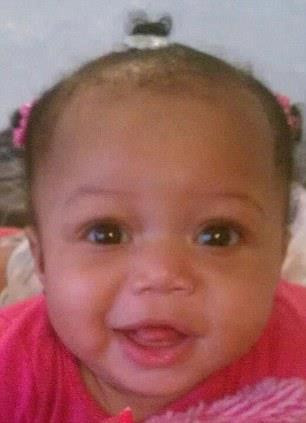 Police have CCTV footage of a blue van, which they believe the suspect fled in.
Patricia McGowan, a witness, told NBC Chicago: "I just heard a lot of shots and skids so ran to the corner. There are always gunshots and crime in the neighbourhood, always drug activity in the neighbourhood. It's heartbreaking."
Authorities have stepped up patrols of the area since the shooting to prevent retaliation and were trying to determine whether reports of a threatening Facebook post are true.
Gun violence in Chicago rose in 2012 for the first time since 2008, with over 500 murders reported.
The baby's mother, Judy Watkins, was shot when she was pregnant with Jonylah.
Her mother, Mary Young, said: "There's too much shooting over there. [Jonylah's] nothing but six months old. How could anybody [do that]?"