A Chicago woman, Carmen Dominguez, 54, has died following what appears to have been a tragic accident at a charity shop in the Brainerd neighbourhood where she worked – another victim of gun-related incidents across the US.
According to reports, a colleague at Unique Thrift was sorting through donated clothing when they picked up a sock containing a gun. The .22-caliber weapon fell into the colleague's hand and accidentally discharged, hitting Dominguez in the chest. She was pronounced dead at a nearby hospital, the Advocate Christ Medical Center.
In a statement police appeared to rule out any suspicious circumstances: "Preliminary indications during the course of the investigation are that this is a tragic, accidental incident."
The United States Occupational Safety and Health Administration are investigating the "tragic, accidental incident", which is far from unusual. Unintentional death by firearm is relatively commonplace in the United States due to the number of weapons in circulation.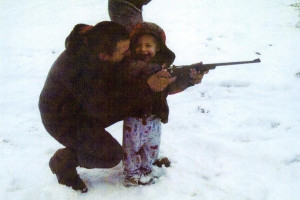 In 2012 three-year-old Lucas Heagren shot himself after finding his father's weapon under a sofa. His father Joshua, who admitted showing his son how to handle weapons so he would "respect firearms" was convicted of endangering children and negligent homicide. Consequently, as in many similar cases, Heagren's death was not recorded as accidental. Even so, between 2005 and 2010 around 3,800 people died as a result of accidental shootings - 1,300 of them under the age of 25. Over the same period 33 people were murdered by gun every day.
Yet the issue of gun ownership raises powerful emotions in the United States. When English chat-show host Piers Morgan attempted to use his CNN show to argue the case for greater gun control the backlash was so intense that when the show was axed Morgan blamed his stance on guns:
"Look, I am a British guy debating American cultural issues, including guns, which has been very polarising, and there is no doubt that there are many in the audience who are tired of me banging on about it."