Chicago: Student's $8 Kickstarter Campaign for Chipotle Burrito Raises Hundreds of Dollars
A graphic design student in Chicago launched a Kickstarter campaign asking for $8.10 (£4.85) to buy a chicken burrito from Chipotle American Grill and with 20 days to go, has so far raised $741 from 190 backers.
In his initial video, charmingly set to the music of French composer Frederic Chopin, Noboru Bitoy explained that he wants to make a creative graph presentation to illustrate the "deliciousness" of the chicken burrito sold in his local Chipotle outlet.
He asked for just $8.10 - $6.50 for the cost of the burrito, $0.60 for the sales tax and $1 as a tip for the Chipotle restaurant worker.
Kickstarter is the world's largest crowdfunding platform. Launched in 2009, so far 56,000 creative projects have been funded on the website, with pledges totalling $978 million.
Within 24 hours, Bitoy reached 400% funding for his project, so he filmed a video of the results, rating the burrito as "yum" (close to the top end of the scale he invented) and decided to set some new goals for his campaign.
When the campaign reached $50 in pledges, Bitoy promised to consume four chicken burritos and rate how the flavour changed as the meal was eaten as a leftover meal on several consecutive days.
When $175 was pledged, Bitoy then promised to consume 24 variations of the chicken burrito prepared by Chipotle, as the restaurant offer six different combinations of ingredients, including three different types of salsa.
Finally, the graphics design student asked for $500 to fund a skydive that will take place after 29 March when the skydiving season begins, a target he has already reached, even though there are still 20 days left to pledge.
"The other night I was thinking, 'How much more delicious would a Chicken Burrito from Chipotle be... if I was plummeting from the heavens?'," he wrote on the Kickstarter campaign page.
"That's right, Kickstarter community. I am going to make an infographic detailing just how delicious a chicken burrito is when eaten during a skydive."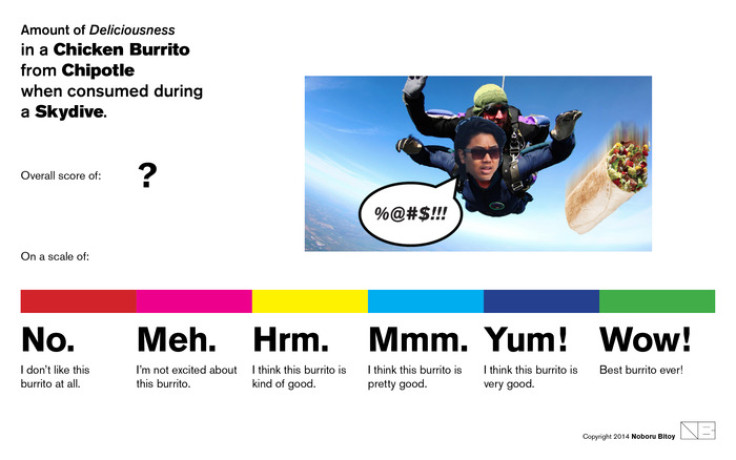 Individuals who chose to back the campaign will receive free gifts for their pledges.
Users who pledge $1 will receive the infographic as a PDF file sent via email, $10 backers receive a sticker of Bitoy's logo, $25 backers receive a sticker and a "super cool" T-shirt, while $50 backers receive two stickers, two t-shirts and a Bitoy promise to promote your project, help you propose to your loved one or have a jingle in his next video.
While some of the options are sold out, interested backers can still pledge $1 or $10 at the moment.
"Some say I've gone far enough in terms of burrito consumption. Some tell me to go further," said Bitoy.
"This is my final stretch goal, and I can't wait to see if we can make it a reality!"
© Copyright IBTimes 2023. All rights reserved.